---


A-Z Artist Index
Compilations
Record Labels
Media
Help Us!
Contact Us
Resources
Timeline
---
From: Portlaoise

Active: c1985

Style: Punk

Lineup:
Brian Colbert - vocals
Eamonn Duff - guitar
Dick Duff - drums


Lunatic Antics LR: Eamonn Duff, Dick Duff and Brian Colbert.
Bio:

Previously unknown punk band whose recordings surfaced online this year and immedaitely raised some eyebrows -- "Rape" and especially "Bunny Carr" are excellent hardcore punk rock tracks. Apparently Lunatic Antics supported Paranoid Visions on more than one occasion. If anyone has a copy of their demo tape, please get in touch.

Note sure if Pat Guilfoyle (later in Lost For Words) was in the band or not.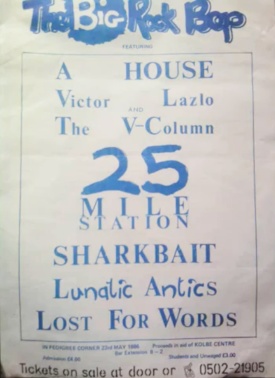 On the bill of the Big Rock Bop (in Castlebar?), 1986.



Help!


We need your help to correct and/or complete this entry. If you can provide more information about this band, have scans, photos or any other memorabilia we can use, or spare copies of any releases, then please get in touch.



---

See Also:


---

A-Z Artist Index
Compilations
Record Labels
Media
Help Us!
Contact Us
Resources
Timeline
---