---


A-Z Artist Index
Compilations
Record Labels
Media
Help Us!
Contact Us
Resources
Timeline
---
From: Portlaoise

Active: c1986

Style: Indie Rock

Lineup:
Dave Whelan - vocals
Colm 'Scratch' Mather - guitar
Brian McDonald - guitar
Pat Guilfoyle - bass
Aidan Doody - drums


Lost For Words in 1986: Pat Guilfoyle, Brian McDonald and Aidan Doody.
Bio:



Indie rock band with chiming guitars. Made several recordings ("Lost For Words", "Kinky", "Silver Needle") but nothing was every released. Unrelated to the band who released the "With Her" single in 1990.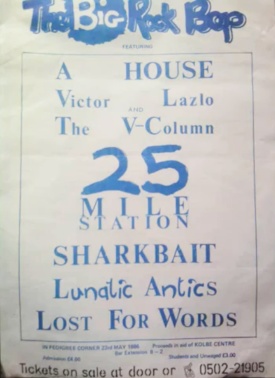 On the bill of the Big Rock Bop, 1986.



Help!


We need your help to correct and/or complete this entry. If you can provide more information about this band, have scans, photos or any other memorabilia we can use, or spare copies of any releases, then please get in touch.



---

See Also:


---

A-Z Artist Index
Compilations
Record Labels
Media
Help Us!
Contact Us
Resources
Timeline
---