---


A-Z Artist Index
Compilations
Record Labels
Media
Help Us!
Contact Us
Resources
Timeline
---
From: Derry

Active: 1986 - September 1988

Style: Rock

Lineup:
Andy Mc Pherson - bass/vocals
Phil Hill - guitar
Micheal Goodman - drums
Conal Doherty - sax
Marty Goodman - trombone
Robert Goodman - trumpet


l-to-r: Andy, Martin, Conal, Michael, Phil, and Robert.
Bio:

Described as a "hard-edged dance rock" with a powerful bass sound and a brass section. Their name begs the perennial question, whether to file under 'C' or 'L', n'est pas? There was an (awful) new wave band from San Francisco called The Call, so perhaps Le Call was used to avoid confusion.

Le Call formed in 1986 and gigged heavily during 1987 and 1988, mainly in the Derry area. Robert Goodman was replaced by Ryan Simpson in 1987. They supported the Pogues in the Embassy in Derry in 1987 and Sinead O'Connor at the Mandela Hall, Queens University in February 1988. In March 1988 they recorded a live session for BBC Radio Ulster.

They signed a one song worldwide deal WEA Ireland in 1988 which was intended for a split single release with another band. The recording session was held at Linton Lane studios in Dublin with Peter Williams producing. Williams had just finished working with Def Leppard in Holland and was obviously an unsuitable choice for the producers chair. The session did not go well (and according to Andy Mc Pherson, the band staying up til 5am the night before probably didn't help matters). The band was unhappy with the recording which paled compared to their own demo version. They wanted to try again with a different producer but WEA weren't keen and the relationship ended. While in Dublin the band played the Baggot Inn.

Their second brush with major label A&R came when EMI in London came to see them play at the Gweedore bar in Derry following the March 1988 live broadcast. Nothing came of this, alas.

The band spent the rest of 1988 gigging all over Ireland, including a headline appearance at the Breaking of the Boom festival at the Guildhall in Derry in August before the split in September. Phil Hill moved to London where he joined the band Mouth.

Le Call will perform a one-off reunion gig in Derry on Saturday 17th January 2009. Check the bands myspace page for further details.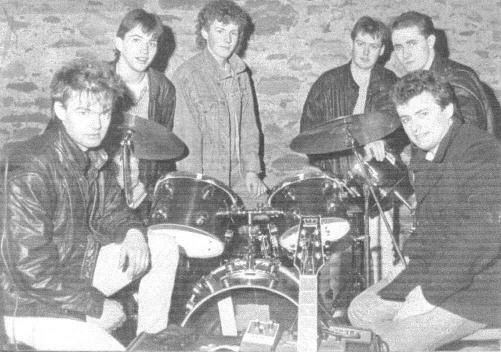 Discography



• Without You / ?
7" - WEA Records - ??? - IRL - unreleased


Notes:
"Without You" may have been intended for a various artists 7-inch EP shared with 3 other bands rather than a dedicated Le Call release. In any case, it never came out in either guise.




Help!


We need your help to correct and/or complete this entry. If you can provide more information about this band, have scans, photos or any other memorabilia we can use, or spare copies of any releases, then please get in touch.



---

See Also:


---

A-Z Artist Index
Compilations
Record Labels
Media
Help Us!
Contact Us
Resources
Timeline
---