---


A-Z Artist Index
Compilations
Record Labels
Media
Help Us!
Contact Us
Resources
Timeline
---
From: Leixlip, Dublin
Active: 1973-75

Style: Celtic Rock

Lineup:
Dick Farrelly - organ & lead guitar
Roy Fitzgerald - violin, lead guitar
Topes Currance AKA Topes Curnce - 2nd lead guitar
Richard Fitzgerald - bass
Paul McAteer - drums, bodhran


Keltic Wine in 1973

Bio:

Celtic rock quintet inspired by Mushroom and Horslips who self-released a single on their own Vintage label which is well worth tracking down. The labels address is in Leixlip, suggesting the band came from there. Managed by John Dee. Still gigging in 1975.

Thanks to a recently discovered picture sleeve for their sole 45, we can add another photo of the band: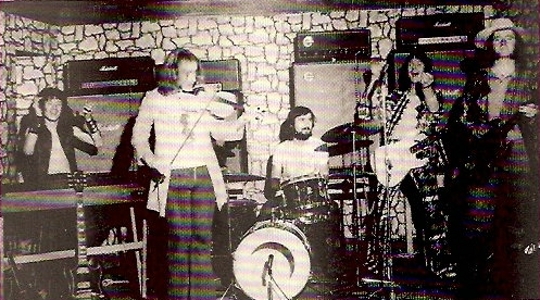 Keltic Wine pictured on the back of their rare PS (thanks to TP McLoughlin).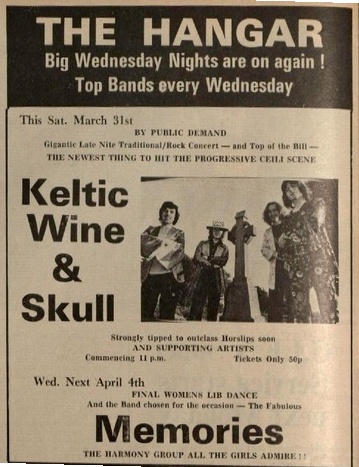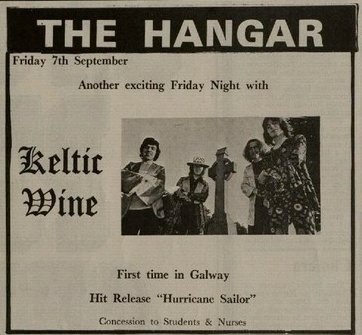 Listings for The Hangar, Galway from March (left) and September (right) 1973.
"Strongly tipped to outclass Horslips soon". "First time in Galway" indeed.
Who were Skull??




Discography:

• Hurricane Sailor / An Fhuis-eog
7" - Vintage Records - AGE 101- IRL - August 1973 - some copies with PS
Distributed by Release Records


Notes: Recorded at Trend Studios. Sleeve designed by "Tomred Snirek" (Dermot Kerins -- if you're reading this Dermot, please get in touch). Additional credits (most evident on the B-side) are Dick Farrelly (mandolin & accordian), Roy Fitzgerald (mandolin, recorder & harpsichord), Topes Curnce (whistle, concert flute, uileann pipes), and Richard Fitzgerald (fiddle, whistle, mandolin).






See also:



Help!: We need your help to complete this entry. If you can tell us more about this band then please do! We welcome any corrections, missing details, connections to other bands, where are they now, etc. We also need photos, scans, copies of releases or live or demo recordings, and any other memorabilia gathering dust in the attic. If you can help, then please get in touch.



---

A-Z Artist Index
Compilations
Record Labels
Media
Help Us!
Contact Us
Resources
Timeline
---