---


A-Z Artist Index
Compilations
Record Labels
Media
Help Us!
Contact Us
Resources
Timeline
---
From: Kildare

Active:1973-84

Style: Pop/Cabaret

Lineup:
Billy Hopkins
Arthur O'Neill
Jimmy Byrne
Des Hopkins


Bio:

Light/poppy outfit from Kildare formed by various ex showband players to cater for the cabaret scene: Billy Hopkins (Airchords, Royal Showband), Arthur O'Neill (Airchords), Jimmy Byrne (Art Supple & The Victors) and Des Hopkins (Dixonaires, Pete Brown and his Band of Renown, The Ohio Showband, Butch Moore and The Kings, Art Supple & The Victors). Billy and Des are brothers. Just Four released a number of records which are of interest. Lillywhite Records was their own label.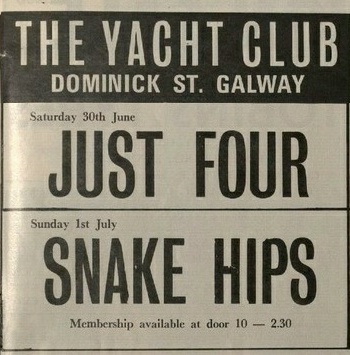 Listing for the Yacht Club, Galway from June 1973


Discography:

• At The Copper Beech (live)
LP - Olympic - OBL 100 - IRL - 1973


• Glad All Over / Tijuana Taxi
7" - Play Records - PLAY 85 - June 1975


• Putting the Bad Times Behind Me / If You Wanna Live, You Gotta Love
7" - Ruby Records - RUB 202 - 1977


• Will You Marry Me For Christmas / Whistling Rufus
7" - Lillywhite Records - LLW001 - IRL - 1981


• The Curragh of Kildare / Brian Boru
7" - Lillywhite Records? - ?? - IRL - 19??
The B-side is a cover of the Lucky Numbers classic.





See also: Zebedee




Help!: We need your help to complete this entry. If you can tell us more about this band then please do! We welcome any corrections, missing details, connections to other bands, where are they now, etc. We also need photos, scans, copies of releases or live or demo recordings, and any other memorabilia gathering dust in the attic. If you can help, then please get in touch.



---

A-Z Artist Index
Compilations
Record Labels
Media
Help Us!
Contact Us
Resources
Timeline
---