---


A-Z Artist Index
Compilations
Record Labels
Media
Help Us!
Contact Us
Resources
Timeline
---
From: Dublin

Active: 198?-1990

Style:

Lineup:
Stephen aka Spike - vocals
Bren - guitar
Turbo - bass
Ginger - drums
Bio:

Excellent garage/psychobilly band who won the Carling / Hotpress Battle of the Bands in 1989. Split 1990. Spike later in the IRS.

Thanks to John Tierney for the following live photos taken at Sir Henry's in Cork and the Baggot Inn in Dublin.


l-to-r: Bren and Spike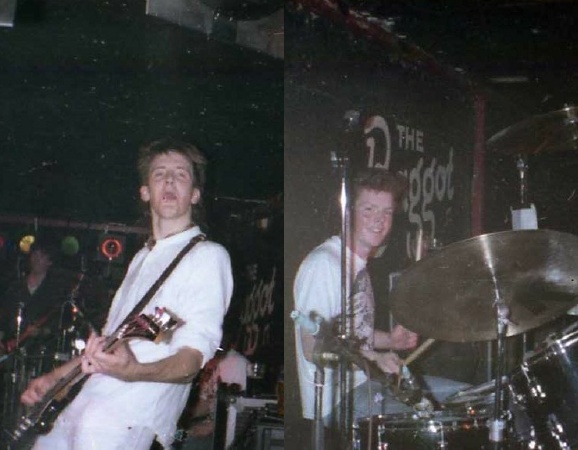 l-to-r: Turbo and Ginger





Discography

• Roller Coaster / 10,000 People
7" - Divine Records - JAP 001 - IRL - 198?
issued in a home-made oversize PS w/xerox insert




Help!


We need your help to correct and/or complete this entry. If you can provide more information about this band, have scans, photos or any other memorabilia we can use, or spare copies of any releases, then please get in touch.



---

See Also:


---

A-Z Artist Index
Compilations
Record Labels
Media
Help Us!
Contact Us
Resources
Timeline
---