---


A-Z Artist Index
Compilations
Record Labels
Media
Help Us!
Contact Us
Resources
Timeline
---
From: Dublin

Active: circa 1977-80

Style: Rock / Hard Rock

Lineup:
Steve Rawson - vocals, guitar
Alan Doyle - guitar, vocals
Alan Hayes - guitar
Richie Fitzgerald - bass, vocals
Joe Sterling - drums
Cool Breeze Band, LR: Alan Doyle, Joe Sterling, Steve Rawson, Richard Fitzgerald, Alan Hayes
[photo courtesy Steve Rawson]
Bio:

Twin guitar band formed in Dublin/Dun Laoghaire by Steve Rawson in 1977. The Cool Breeze Band blended various styles and incorporated a hard rock edge on some material. Their live set consisted of some originals and many covers, including Bob Seger ('Rosalie'), Bad Company, Steely Dan ('Changing of the Guard'), Thin Lizzy ('Cowboy Song') and others. They played the usual Dublin venues - Toners, Baggot Inn, Mississippi Rooms in Bray, Morans Hotel - and ventured further including Leisureland in Galway, the Arcadia Cork, the Wexford Rock festival, and other places around the country. They were reputedly a good live act during what was a pretty sparse period for live rock music in Ireland. Dave Fanning gave them a good write up in Scene magazine. They were managed by Charlie McNally & Johnny Lappin and shared the bill with Stepaside on several occasions. On one occasion they were supported by the pre-U2 band Feedback. It's not clear if they had ambitions to be more than a good local bar band (nothing wrong with that!). They split circa 1980. There are no recordings as far as I know.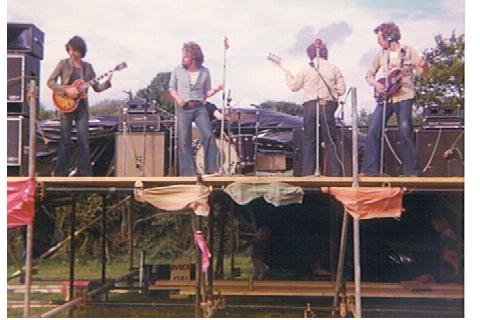 Live at the Wexford Rock Festival
[photo courtesy Steve Rawson]




See also:
External Links: http://steverawsoncommunications.files.wordpress.com/




Help!: We need your help to complete this entry. If you can tell us more about this band then please do! We welcome any corrections, missing details, connections to other bands, where are they now, etc. We also need photos, scans, copies of releases or live or demo recordings, and any other memorabilia gathering dust in the attic. If you can help, then please get in touch.


thanks to Steve Rawson

---

A-Z Artist Index
Compilations
Record Labels
Media
Help Us!
Contact Us
Resources
Timeline
---