---


A-Z Artist Index
Compilations
Record Labels
Media
Help Us!
Contact Us
Resources
Timeline
---
From: Athlone, Co.Westmeath

Active: circa 1971

Style:

Lineup:
Andy Kilmartin - guitar/vocals
Gerry Flynn - bass/vocals
Billy Sheriff - drums


Clovehitch in 1973
Bio:

Blues rock power trio in Taste/Cream/Mountain/Skid Row mould in 1971 but possibly playing folk-rock by 1973 according to the poster below. This was probably the later, augmented lineup which included keyboards (Frank Kenny) and a blonde female singer (Florrie Bell). They recorded an LP in England but it was never released.

(A clove hitch is a type of knot).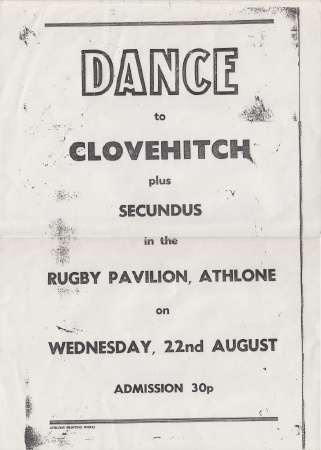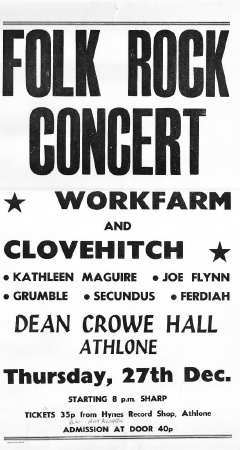 See also:



Help!: We need your help to complete this entry. If you can tell us more about this band then please do! We welcome any corrections, missing details, connections to other bands, where are they now, etc. We also need photos, scans, copies of releases or live or demo recordings, and any other memorabilia gathering dust in the attic. If you can help, then please get in touch.



---

A-Z Artist Index
Compilations
Record Labels
Media
Help Us!
Contact Us
Resources
Timeline
---