---


A-Z Artist Index
Compilations
Record Labels
Media
Help Us!
Contact Us
Resources
Timeline
---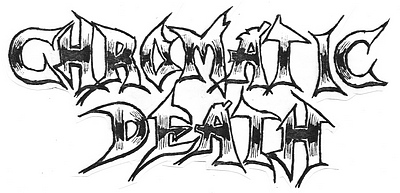 From: Sutton, Dublin

Active: 1987-88

Style: Hardcore

Lineup:
Pincher - vocals
Paul Kennedy AKA Ratz - guitar
Mano - bass
Joe - drums


Bio:

Dublin hardcore band active 1987-88 who recorded a well received demo tape titled "Hoodycore". Joe and Pincher had previously been in an earlier hardcore band called Devestation. Paul Kennedy was simulataneously a member of Chromatic Death and Killer Watt. All four members of Chromatic Death would eventually reconvene in Moral Crusade.


Official Chromatic Death bio from 1988: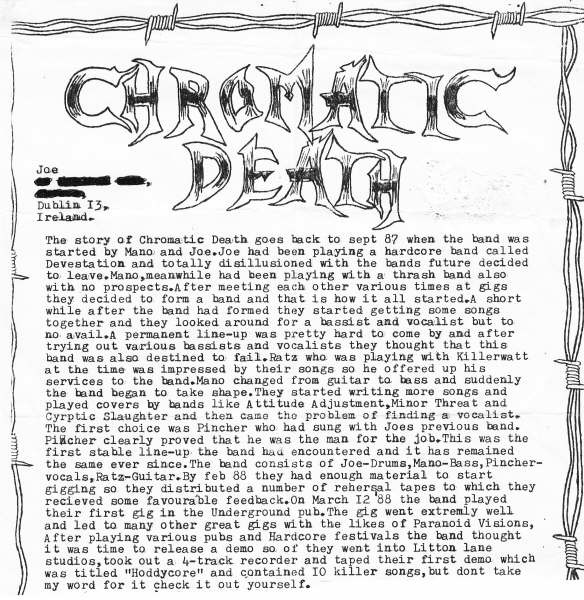 Discography

• The Hoodycore Demo
K7 - demo tape - IRL - 1988



tracks:
Parential Aggrevation
An Ideal Republic??
Instrumental Death
Money [Depression cover]
Underground Struggle
We Want Peace
You Couldn't Care Less
I Die, You Die
Napalm Noise


review from Fuck Conformity #1
Help!
We need your help to correct and/or complete this entry. If you can provide more information about this band, have scans, photos or any other memorabilia we can use, or spare copies of any releases, then please get in touch.
---

See Also: Killer Watt, Moral Crusade.


---

A-Z Artist Index
Compilations
Record Labels
Media
Help Us!
Contact Us
Resources
Timeline
---