---


A-Z Artist Index
Compilations
Record Labels
Media
Help Us!
Contact Us
Resources
Timeline
---
From: N.IRL

Active: 1980-82

Style: Powerpop

Lineup:
Francie McFaul - vocals, guitar
Eamon Connor - guitar
Sean Corr - bass
Chris Hickey - drums


l-to-r: Chris Hickey, Francie McFaul, Eamon Connor, Sean Corr.


All photos on this page taken in the Students Union Bar, New University of Ulster,
late 1980 or early 1981. My thanks to Sean Corr and Francie McFaul for their help.


Bio:

The Captions were a power pop band who played around the triangle area of Coleraine, Portstewart and Portrush between 1980 to 1982. They were contempories of The Xdreamysts, Perfect Crime and Know Authority among others.

The Captions began life as a punk band called Miracle Cure (1979-80) which included Eamon, Chris and Sean along with Louie Coulter (vocals/rhythm guitar). When Louie left, the others took the opportunity to change their name as their sound was evolving but also because Robert Smith's band The Cure was gaining prominence by that time.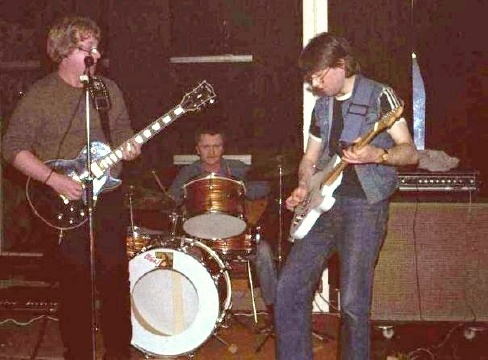 Louie's replacement was Francie McFaul who became the band's chief songwriter though Sean Corr contributed several songs to their set. Though the band concentrated on original material, on rare occasions they included a cover in their live set, usually Bowie ("Jean Genie", "Diamond Dogs", "All The Young Dudes") or a non-stop Rock & Roll set they called "Tyrannicide" which could last up to 30-minutes.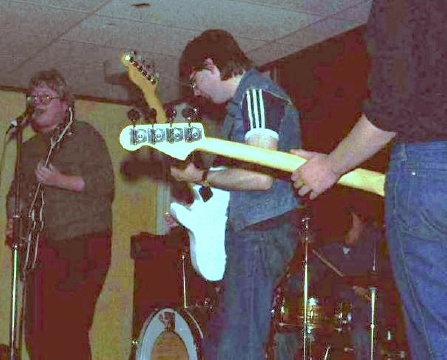 They were prolific songwriters and recorded two demo tapes. Their first was recorded in 1981 on a (Tascam?) 4 track recorder. The 5 songs are basically power pop. Terri Hooley liked the tape and encouraged the band to persevere but he wasn't looking to sign any new bands at that time as he'd just been abandoned by The Undertones and the Good Vibrations label was in one of it's periodic periods of limbo. Unfortunately Dave Fanning or his producer didn't consider the tape to be broadcast quality and declined playing it on his radio show. Hot Press gave the demo a complimentary review, describing the band as "abrasive guitar pop with a garage edge". The second 4-song demo was in fact recorded during a gig at Spus of Portstewart. It was described by Chris as "a cacophany of sound". The band split in 1982.

The band members all emigrated. Sean Corr now lives in New Zealand, Francie McFaul in Scotland, Eamon Connor in the USA and Chris Hickey in England.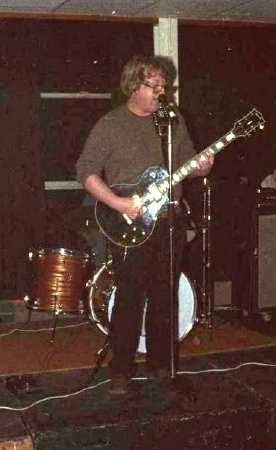 Francie McFaul





Francie McFaul continued to write songs and record demos after the band split. He is now better known as Gospel singer David Isaac who recorded 8 albums, toured Europe and America, and appeared many times on TV over a 10 year period. He currently teaches guitar and plays in his local church band, and is still writing songs.



Discography

• 1981 Demo Tape
No artwork.
tracks:
Can't Get It Out Of My Head
Riverworld
Terrible Day
Beat It Out
Beast of Burden (not a Stones cover!)


• 2nd demo/live tape
Recorded live at Spus of Portstewart
No artwork.
tracks:
No Feelings
Take for Example
Boot Hill
All Day Long


• Other, unrecorded songs:
America Is Free
Square Peg In A Round Hole
Dinner Is Served
Depression On Cloud Nine
On A Night Like This
All Day Long
Boot Hill
Somebodys Sons
Lili Marlene


• Miracle Cure songs included:

Sweet Suicide
Radio One
Hey Sweet Thing
Vampire Lover
Durex Blues
Help!
We need your help to correct and/or complete this entry. If you can provide more information about this band, have scans, photos or any other memorabilia we can use, or spare copies of any releases, then please get in touch.
Thanks to Sean Corr for his help with this page.
---

See Also:


---

A-Z Artist Index
Compilations
Record Labels
Media
Help Us!
Contact Us
Resources
Timeline
---