---


A-Z Artist Index
Compilations
Record Labels
Media
Help Us!
Contact Us
Resources
Timeline
---
U.E.D. Records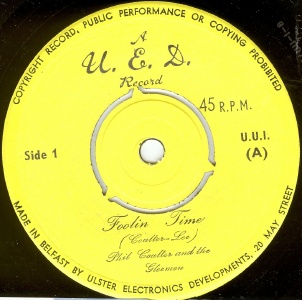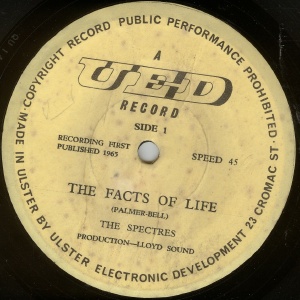 UED stood for Ulster Electronic Developments, a record label set up by Pete Lloyd while at Queen's University in Belfast. Pete already had a company which made guitar amps (incl. a highly regarded bass amp) and Lloyd PA. The singles were recorded to help raise money for various charities in associaiton with Rag Week at QUB.

The first single featuring Phil Coulter's Gleemen was recorded in 1963 and was Coulter's first ever recording. Some sources date it as 1964, but as "Foolin Time" was later recorded by The Capitol Showband and released on Pye in January 1964, this Rag Week single must pre-date it, making it a 1963 release. Phil (on piano and vocal) is backed by Rory O'Prey (guitar), Cel Fay (bass) and Phil McConnelogue (drums). Coulter gave copies of the single to Butch Moore and Des Kelly of the Capitol Showband while working a summer job in a hotel in Bundoran. They recorded it a few months later and it became the Capitol's and Coulter's first ever hit.
"We went into one of the [Queens] university common rooms. A guy who studied electronics had a tape recorder and a set of mikes. We threw things over the window and - bang! bang! bang! - recorded the whole thing right there on a domestic tape recorder. We pressed up a couple of thousand records on an independent label. We knew that we wouldn't have a prayer going to EMI or Philips. The whole idea of an independent label was quite visionary then, although it became the norm in the seventies." - the 'visionary' Phil Coulter, quoted in Send 'Em Home Sweatin
A second single on UED followed in 1965. It was by The Spectres, from Belfast, and was written by Teddie Palmer, with the proceeds again going to various charities.

Pete Lloyd went on to record the first Them singles. Both UED releases are now highly sought after.



Singles Discography [7"]

no nbr Phil Coulter & The Gleemen - Foolin Time / Thunderbird - 1963? - PS
no nbr The Spectres - The Facts of Life / Whirlpool (AKA The Rag Record) - 1965 - no PS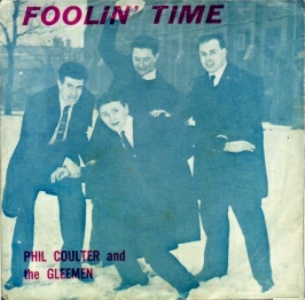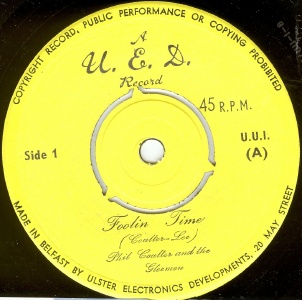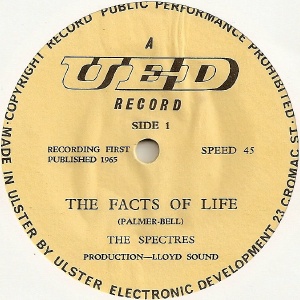 Thanks to Teddie Palmer for his help
---

A-Z Artist Index
Compilations
Record Labels
Media
Help Us!
Contact Us
Resources
Timeline
---