---


A-Z Artist Index
Compilations
Record Labels
Media
Help Us!
Contact Us
Resources
Timeline
---
Skylark Records
last updated 18 Jan 2015
last updated 17 Jan 2014
last updated 5 December 2012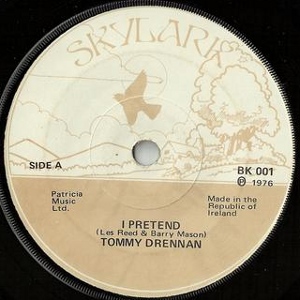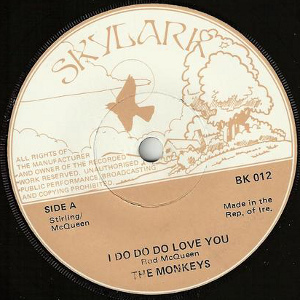 Singles
BK001	Tommy Drennan - I Pretend / Sweet Surrender [1976]
BK002	Friendship - It's Another Beautiful Day / Dream
BK003	Denis Bowler - O'Dwyer's Young Men / The Boys of Barrnasraide  [1976]
BK004	Tommy Drennan - If Dreams Came True / If You Take My Hand [1976]
BK005	Denis Allen - Da Dum Da Dum I Love You So / Suddenly There's Love  [1977]
	Entered in the 1977 national song contest
BK006	Hugh McLean & The Mighty Avons - An Expert At Everything / Missing You, Missing Me
	Originally issued on Sharp Records as SHA 109 with PS. I have not seen a copy with Sharp labels.
	The Skylark edition has the Skylark label with no reference to the Sharp edition, but the matrix 
	numbers identity it as SHA 109, suggesting Skylark simply re-labelled remaining copies of the 
	Sharp pressing. The Sharp PS was unaltered, making it look like a mismatch. 
	It seems unlikely it was a co-release.

BK007	Tommy Drennan - Today / Molly
BK008
BK009
BK010
BK011	Yannis Markopoulos - Who Pays The Ferryman / Fanfare For Charon [1977] licensed from the BBC
BK012	The Monkeys - I Do Do Do Love You / Disillusioned Fool 




thanks to John Lynch
---

A-Z Artist Index
Compilations
Record Labels
Media
Help Us!
Contact Us
Resources
Timeline
---