---


A-Z Artist Index
Compilations
Record Labels
Media
Help Us!
Contact Us
Resources
Timeline
---
Sharp Records
last updated 19 Sep 19
last updated 18 Jan 2015
last updated 22 Jan 2014
last updated 12 December 2013
last updated 30 May 2013



Sharp Records, 8 Lower Mount Street, Dublin 2.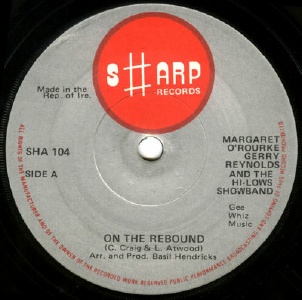 Singles


SHA 101	The Sandpipers - Hang On Sloopy / Skidrow Joe [1976] licensed from Satril (UK)
SHA 102	Reunion - Blodwyn / Sing Me A Rainbow
SHA 103	Billy Donegan, Tricia & Jambalaya - Arms Around The World / Blue Eyes [198?]
SHA 104	Margaret O'Rourke, Gerry Reynolds & The Hi-Lows - On The Rebound / Anything's Better Than Nothing
SHA 105	John Flood & The Floodlights - Velvet Mornings / Happiness Is Just Around The Corner
SHA 106	Big Steve Lynch - Toast To Ireland / Steve's One Man Band 
SHA 107	Gene Stuart & The Mighty Avons - Papa's Wagon / Mississippi Sands [1977]
	recordings or reissues of two B-sides: Velvet VE.026-B and Hawk HASP336-B
SHA 108	Stu Stevens - Hudson Bay / My Woman My Woman My Wife 
SHA 109	Hugh McClean & The Mighty Avons - An Expert At Everything / Missing You Missing Me (PS)
	This single was also issued as Skylark BK006 with a Skylark label but matrix numbers identity
	it as SHA 109. The PS makes Sharp Records but not Skylark. This suggests the Sharp edition
	predates the Skylark, which simply re-labelled remaining copies of the Sharp pressing, even
	though some of these were housed in Sharp PS.

  

 




Albums



SHARP ONE	Hugh McClean with The Mighty Avons - Sings The Leprechaun
SHARP TWO	Gene Stuart - Gene Stuartís Greatest Hits Vol.2

  


thanks to John Lynch


---

A-Z Artist Index
Compilations
Record Labels
Media
Help Us!
Contact Us
Resources
Timeline
---