---


A-Z Artist Index
Compilations
Record Labels
Media
Help Us!
Contact Us
Resources
Timeline
---
Sail Records
last updated 20 Sept 2020
last updated 2 Nov 2016
last updated 28 July 2016
last updated 19 March 2015
last updated 17 Jan 2014
last updated 8 May 2013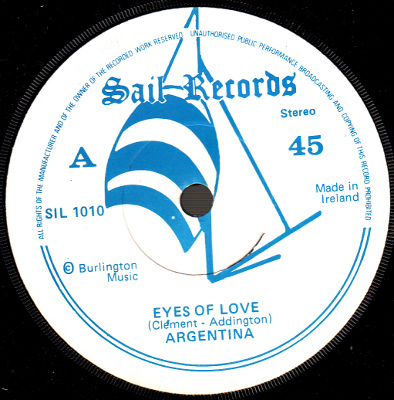 Singles

SIL 1001	The Kinsellas And Their Country Band (feat. Nick & Marty Kinsella) - The Sunny South East / I Heard The Bluebirds Sing [1975]
SIL 1002	The Kinsellas Band - I Like Beer / Mansion On The Hill 7" [1976]
	A-side featuring Nick Kinsella, B-side feat John Kenny
SIL 1003	The Kinsellas - Sweet Kilmore Quay / When I See You Tomorrow 7" (PS) [1976]
SIL 1004	The Sutherlands - Purple and Gold / Rackard's Heroes
SIL 1005	The Kinsellas feat. Nick Kinsella - It's A Christmasy Kind of Christmas / Rudolph the Red-nosed Reindeer
SIL 1006	Marti Mari & The Kinsellas Band - Where Has All The Love Gone / My County Cavan Home 
SIL 1007
SIL 1008
SIL 1009
SIL 1010	Argentina - Eyes of Love / (Where Has All The) Love Gone 7"

Albums

SAIL 001	The Kinsellas - The Kinsellas And Their Country Band LP [1975]
	"On this, their second Long Playing Record, the Kinsellas not only perform a selection of songs
	which are certain to please you, but in addition they spotlight the vocal and instrumental
	capabilities of their very talented band"--Fr. Jack Hackett
	The Banks of the Slaney / Sunny South East / Sea of Heartbreak / Cliffs od Doneen / Raz-Ma-Taz Polka / The Wild Rapparee //
	The Old Caubeen / The Whistling Gypsy / Do What You Do Do Well / Bringing Mary Home / FLower of Old Kilmore / The Old Spinning Wheel.

SAIL 002	v/a - From the Banks of the Slaney LP [1976]
		Traditional Music and Song of Wexford, the Birthplace of John Barry



---

A-Z Artist Index
Compilations
Record Labels
Media
Help Us!
Contact Us
Resources
Timeline
---