---


A-Z Artist Index
Compilations
Record Labels
Media
Help Us!
Contact Us
Resources
Timeline
---
R & O Label (Release and Outlet)
last updated 24 August 2016
last updated 5 Apr 2015
last updated 13 Feb 2014
last updated 22+6 Jan 2014
last updated 2 August 2012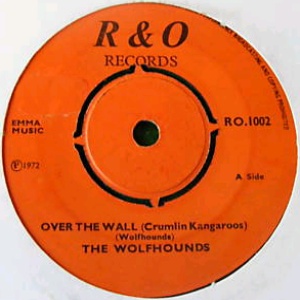 Co-releases by Release and Outlet Records. Mostly folk and republican releases but notable for several Teddie Palmer & The Rumble Band singles.


Singles
RO.1001	The Wolfhounds - Boys Of The Old Brigade / Ashtown Road [1972]
RO.1002	The Wolfhounds - Over The Wall (Crumlin Kangaroos) / Maidstone [1972]
RO.1003	Declan Hunt - The Broad Black Brimmer / The Battering Ram [1972]
RO.1004	Jim Gunner - 13 Men (Would Never Walk On Derry's Streets Again) / Kelly the Boy From Killanne [1972]
RO.1005	Leo McCaffrey & the Glensmen - My Mother's Last Goodbye / Rose of Aranmore [1972] (PS)
RO.1006	James Connolly Folk Group - Brave Sons of Derry / The Galway Rebel [1972]

	

RO.1007
RO.1008
RO.1009	The Wolfhounds - Ireland Gaelic & Free / Patriot Game [1972]
RO.1010	Catherine & Spurs - Bloon On Our Land [1972]
RO.1011
RO.1012
RO.1013
RO.1014	Rumble Band - Only You/Love Me Tender/First Love Never Dies (Maxi Single-EP) [1972]
RO.1015
RO.1016
RO.1017	Trembliní Ted & The Rockers - Live Rock & Roll EP [1973] (PS)
	AKA Teddie Palmer & The Rumble Band
	tracks: Hound Dog/Mean Woman Blues/Great Balls of Fire/One Night With You  

RO.10??	The Men Behind the Wire - Connelly Was There / ?
RO.101?	Soni Tyrone & Big Three - Wedding Bells / China Doll [197?] possibly 1012
 


Albums

ROL 3001	v/a - The Men Behind The Wire - s/t LP [1972]

	

	Tracks performed by Ray McAreavy (x1), Johnny Beggan (x1) and Declan Hunt (x9)

ROL 3002	v/a - Smash Internment LP [1972]
	Live Recording smuggled out of Long Kesh.




---

A-Z Artist Index
Compilations
Record Labels
Media
Help Us!
Contact Us
Resources
Timeline
---