---



A-Z Artist Index
Compilations
Record Labels
Media
Help Needed
Contact Us
Resources
Timeline
---
Mint Records
last updated 26 Nov 2018
last updated 3 Jan 2018
last updated 24 Oct 2017
last updated 16 July 2016
last updated 1 Apr 2016
last updated 4 Jan 2016
last updated 17 Sep 2015
last updated 3 Feb 2015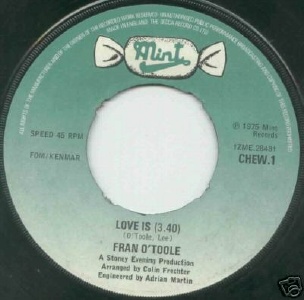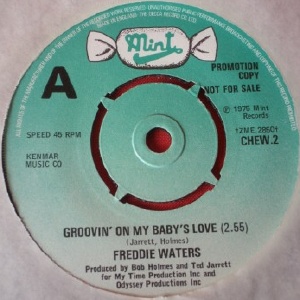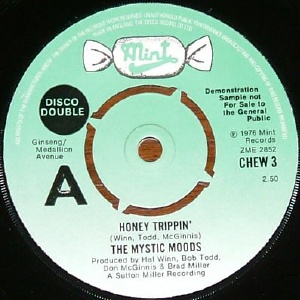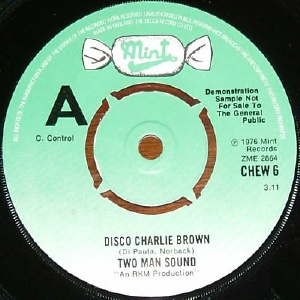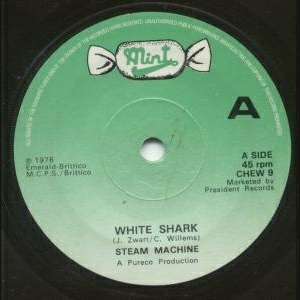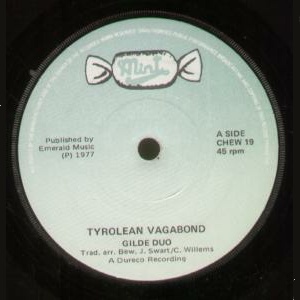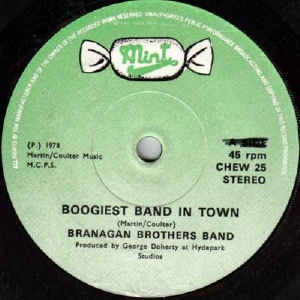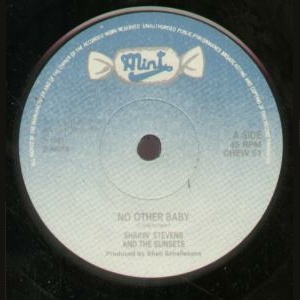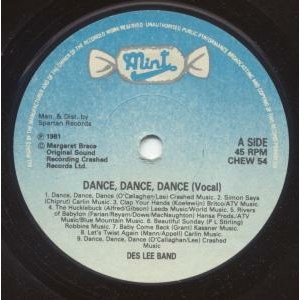 Northern Irish label that released some notable Irish singles including those by Clive Culbertson and The Singles, as well as a lot of showband stuff that'd kill your average KBD collector. It also licensed a number of soul singles from small US labels.

The label changed from green to blue around 1980 but kept the familiar wrapped sweet logo. This changed to the block MINT logo with the 'i' beneath the centre hold by the mid-80s. Picture sleeves on some releases do exist but they are not common.

Initially marketed by President Records.





SINGLES



CHEW Series
All 7" singles unless otherwise stated

  1	The Miami featuring Fran O'Toole - Love Is / Tell Me Again  [8/1975]
  2	Freddie Waters - Groovin' On My Baby's Love / Kung Fu And You Too [10/1975]
  3	Mystic Moods - Honey Trippin' [Hal Winn, Bob Todd, Don McGinnis] / Midnight  [1/1976] 'disco double' label
  4	Bobby Vee - (I'm) Lovin' You / Sayin' Goodbye [1/1976]
  5	Roger Hatcher - We Gonna Make It / High Blood Pressure [1/1976] 'disco double' label
  6	Two Man Sound [Belgium] - Disco Charlie Brown [Di Paula, Borback] / Balaffon [6/1976] (An RKM Production)
  7	David Betts - Sadie / You're The Girl In My Life [6/1976]
  8	Ann Christy - Secret Love [7/1976]
  9	Steam Machine - White Shark   [8/1976]
 10	Kellee Patterson - I'm Gonna Love You Just A Little More Baby / You Are So Beautiful [8/1976]
 11	Stella Parton - I Want To Hold You In My Dreams [10/1976]
 12	Jim Nelson - The Lost Letter  [10/1976]
 13
 14	Des Lee - Hold On To Love / Angel of Love  [10/1976]
 15	Zebera - My Bionics Man / Wind Up Toy [1/1977]
 16	John L Sullivan - I Never Cry [4/1977]
 17	The Miami featuring Fran O'Toole - Out There Singing / Can't You Understand  [6/1977]
 18	Clubsound - Still The One / The Mad Fighter  [6/1977]
 19	Gilde Duo - Tyrolean Vagabond / Snow Waltz   [8/1977]
 20	Rob Roy - Flower Of Scotland [11/1977]
 21	Light - The Break / Castles in the Sand  [12/1977]
 22	The Miami - Don't Put The Boy Down / That's The Way  [1978]
 23	The Miami featuring Charlie Chapman - I Like It Like That / My Life Is Rock and Roll  [8/1978] (PS)
 24	Clubsound - The Ballymoor Grousebeaters / Dora's Place In Ballymoor [1978]
 25	Branagan Brothers Band - Boogiest Band In Town (Martin/Coulter) / Part of You (Eades)  [11/1978]
 26
 27
 28	The Miami featuring Peter Eades - Too Much Is Going On / The Miami featuring Paul Duffy - Miami Melody  [5/1979] (PS) A-side finished 2nd in the 1979 national song contest
 29	Roly Daniels - If You've Got Ten Minutes / Hearts On Fire  [2/1979]
 30	Helen McCaffrey - I'll Get Over You / Easy My Mind On You [3/1979]
 31	The Miami - Reelin' and Rockin' with Susie / Clap Your Hands, Stomp Your Feet [1979] (PS)
 32	Jim Glaser - Who Were You Thinking Of / You Don't Make Me Feel Loved Any More [10/1979]
 33	Jimmy Hay - Big Willie Went Down To Wembley / C'mon Baby [1979]
 34	Roly Daniels - Mr. Jones / I'm Coming Home Mama [19??] previously listed as MINT 3
 35
 36	Luvbug - Absolutely Wild Over You / Shine On [1980]
 37	The Miami feat. Peter Eades -  You're So Cheeky / Too Much Is Going On [1980]  B-side finished 5th in the 1980 national song contest
 38
 39	Stout - It's Hard To Be Humble / Reels And Jigs [1980]
 40	Roly Daniels - Almost Someone / Your Eyes
 41	Frankie McBride - Could I Have This Dance / Gentle To Your Senses, Easy On Your Mind [1980] 
 42	The Doctor - Where Would I Be / Baby When The Night Is Callin' [1980] soul licensed from Decade Records
 43	The Miami - Words And Music / Save The Last Dance For Me  [1980] (PS)
 44	Jackie Nelson - Walking Talking Dolly / Silent Night [1980]
 45
 46	Mary Lou - Stand By Me / Then I Kissed Her (PS) [1980]
 47	Tina James - San Antonio Stroll / Love Is A Rose [1980]
 48	Stout - Sandcastle Sam / Kerry Polkas [1980]
 49	Billy Mena - Shut Up Yer Gub / Football Frolics [1980]
 50	Jackie Nelson - (Now And Then There's) A Fool Such As I / (I'd Be) A Legend In My Time [1980]
 51	Shakin' Stevens & The Sunsets [UK] - No Other Baby / Manhattan Melodrama  [1981] (PS)
 52	Roly Daniels - Last Cheater's Waltz / No One But You 
 53	The Singles - Tv Deceives / Send For Sorrow   [1981] (PS)
 54	Des Lee Band - Dance, Dance, Dance (Vocal) /  Dance, Dance, Dance (Instrumental)  [1981]
 55	Polly Browne [UK] - Love To Give / High Society 
 56	Frankie McBride - I'm Being Good / Laura
 57	Barleypops - Hooked On Scotch/the Haggis Song (PS)
 58	Roly Daniels - Do You Wanna Go To Heaven?
 59	Bakerloo Junction - My Lagan Softly Flowing / Flowers Of Manchester  [1982] (red vinyl)
 60	Roly Daniels - I Feel Like Lovin' You Again / Girls Women And Ladies [1982]
 61	Frankie McBride - Just Beyond The Moon / Let's Build A Love Together [1982]
 62	Slainte - When I Grow Too Old To Dream / Count O'Hanlon [1982] folk rock
 63
 64	Glen Curtin - We Will Make Love / Turn It Over [1982]
 65	Bakerloo Junction - The Winds of Change / Porter [1982]
 66	Clive Culbertson - Kiss Me / The Night's No Friend of Mine [1982]
 67	Bobbie Hanvey (The Ramblin' Man) - The Ballad of Hurricane Higgins / Master McGrath [1982]
 68
 69	Peter Reilly - Book Of Kells / Asthoreen Bawn [1982]
 70	Slainte - As Tears Go By (Jagger/Richards/Oldham) / Rambles Of Spring [1982] folk rock
 
	 
 
 71	Sydney Devine - Like Strangers
 72	Ann Williamson - When You And I Were Young Maggy / Forsaking All The Rest [1982]
 73	Mary Lou - Where The Boys Are / Let's Dance (PS)
 74	Roly Daniels & Ann Williamson - Like Strangers / Roly Daniels - No One But You  [1/1983] (PS)
 	A-side credited to Roly Daniels & Ann Williamson on the sleeve and Ann Williamson/Roly Daniels on the label.
 75	Teddie Palmer - Nobody Loves Like An Irishman / First Love Never Dies  [1982] double A-side
 76	Derrick Mehaffay (Derrick & The Sounds) - Shake Me I Rattle / The Sound Of My Music [1982] (PS)
 77	Ann Williamson - Pal Of My Cradle Days / Forsaking All The Rest [1982]
 78	Bakerloo Junction - I Remember Belfast / Black Velvet Band [1982]
 79	John King - True Life Country Music [1983]
 80	Red Hurley - Hey / Cut Across Shorty [1983]
 81	Ann Williamson - Baby Blue / When You And I Were Young Maggie   [1983]
 82	Rattlesnake Annie - Tennessee Waltz [1983] (PS)
 83	Sammy Mackie - What About Ye? [1983]
 84	Clubsound - The Way Old Friends Do / The Madfighter [1983]
 85	Ann Williamson - Tiny Bubbles
 86	Roly Daniels - I Will Love You All My Life / I Don't Wanna Lose You  [1983]
 87	Trevor 'Big T' Campbell - Desiderata / Desiderata (instrumental) [1983] (PS)
 88
 89	Clive Culbertson - Just A Little Bit / The Last Laugh [1984]
 90	Roly Daniels - He Stopped Lovin' Her Today [1984]
 91	Clubsound - Rock 'N' Roll You're Beautiful / Give Me A Road [1984]
 92	Roly Daniels - Someone I Ain't / No One But You (Clive Culbertson) [1984]
 93	Sammy Mackie & Annie Largey - Get Off My Back / Sammy and Annie [1984]
 94	Ann Williamson - Just Out Of Reach / How Great Thou Art [1984]
 95	Roly Daniels - Hello Darlin'/ If All The Magic Is Gone 
 96	Ann Williamson & Roly Daniels - Memories For Sale / Can't Get Used To Losing You
 97	Clubsound - And God Created Woman / We're Doing Fine [1985]
 98	Blackthorn - Belfast Marathon / Julia Delaney [1985]
 99	The Braniffs - Why Should I Be Lonely / Waiting For A Train  [1985]
100	Roly Daniels - Part Of Me /  Spanish Angels [1985]
101	Clive Culbertson - I Can't Fight It / If You Don't Have A Dream [1985]
102
103
104	Roly Daniels - Let's Leave The Lights On Tonight / Hey Lord It's Me 
105
106	Ivan Martin & Richard Young - You Better Come Home / Sellafield Rap 
	(two N.IRL radio presenters in comedy sketch to the sound of "Speedy Gonsalez" -- it's HIL-arious)
107	Roly Daniels - Because I Love You / The Wind Beneath My Wings 
108
109
110	Toni Warne - Ben / Bright Eyes  (PS)
111	Francis Canning - Black And White Rag / Root Beer Rag   [1987] (PS) jazz pianist
112	Inchequin - City On The Lagan / Clove Rock [1987] (PS)
113
114	Roly Daniels - It's All In The Game / Sometimes When We Touch [1987] (PS)
115
116	Roly Daniels - Love Don't Come Any Better Than This / Wonderful Tonight 
117	The Mimics - The Wizards Of Auz / The Mimics Song [1989] (PS)
118
119
120	Barnbrack - Don't Forget The Children / Instrumental [198?] (PS) charity single sponsored by Crazy Prices

 ??	Maureen Hart - Hey Lord Its Me
 ??	Sammy Mackie - I'm Yer Man [1982] (PS)
 ??	Ann Williamson - Blue Eyes Cryin In The Rain [1983] (PS)


  

  

  


CHEP Series
All 7" single 33rpm EPs unless otherwise stated

CHEP 1	Clubsound - A Christmas EP [1978] (PS)
CHEP 2	Leo McCaffrey - Leo McCaffrey Sings EP [1982] (PS)
	Rathlin Island/My Lagan Softly Flowing//Star of the County Down/Lovely Derry/On The Banks Of THe Foyle




ALBUMS



MINT Series

MINT  1	Fran O'Toole - Reflections Of LP [1976]

	  

	tracklisting: Trying/Things Are Changing Fast/Can't You Understand/The Leaving of Liverpool/Clap Your Hands and Stamp Your Feet/
	Here I Go Again/Love Is/Love Me Tender/Rock and Roll Road Show/Drift Away/Fire and Rain/Wild Night.

MINT  2	The Mystic Moods - Erogenous LP [1976]
MINT  3
MINT  4	The Mystic Moods - Moods For A Stormy Night [1976]
MINT  5	The Mystic Moods - Emotions LP [1976]
MINT  6	The Mystic Moods Orchestra - Stormy Weekend LP [1976]
MINT  7	The Mystic Moods Orchestra - Touch [1976]
MINT  8
MINT  9	The Mystic Moods Orchestra - Nighttide [1976]
MINT 10	The Mystic Moods Orchestra - Man And Woman [1976]
MINT 11	Light - s/t LP [1979]
MINT 12	Roly Daniels - I Wish You Love LP [1984]
MINT 13
MINT 14	Roly Daniels - I Can Fly Higher LP [198?]



Julep Series

JULEP  1
JULEP  2
JULEP  3	Clubsound - Clubsound Capers LP [1976]
JULEP  4	John L. Sullivan - Tear Time [1977]
JULEP  5	Randy Barlow - Arrival LP [1977]
JULEP  6	Clubsound - Both Sides Of [1977]
JULEP  7	Brendan Quinn - Country Lovin' 
JULEP  8
JULEP  9
JULEP 10
JULEP 11	Clubsound - Convoy LP [1979]
JULEP 12	Roly Daniels - Let's Fall In Love LP
JULEP 13	Lloyd Green - The Original Lloyd Green Vol.1 [1980] pedal steel guitarist recordings 1967-69
JULEP 14?	Lloyd Green - The Original Lloyd Green Vol.2 [1980]
JULEP 15?	Lloyd Green - The Original Lloyd Green Vol.3 [1980]
JULEP 16	Arty McGlynn - McGlynn's Fancy LP [1980]
JULEP 17	Frank Carson - It's The Way I Tell 'Em (recorded 1976)
JULEP 18	Brendan Quinn - Collection [ca 1980]
JULEP 19	Shakin' Stevens & The Sunsets - Manhattan Melodrama (recorded 1975) [1981]
JULEP 20	Shakin' Stevens & The Sunsets - s/t (recorded 1973) [1981]
JULEP 21	Chris LeDoux - Sounds Of The Western Country [1981?] possibly cassette only (K JULEP 21)
JULEP 22
JULEP 23	Chuck Layburn - Remembers 
JULEP 24
JULEP 25	John King - Portrait
JULEP 26	Roly Daniels - Last Cheater's Waltz LP [1981]
JULEP 27	Frankie McBride - Could I Have This Dance LP
JULEP 28	George Jones & Tommy Thomas (of Clubsound) - Up Ulster LP [1982]


Special Products series

MINT SP1	?
MINT SP2	Sweet Communion - Nothing Short of Telling LP [1976] CCM











---

A-Z Artist Index
Compilations
Record Labels
Media
Help Needed
Contact Us
Resources
Timeline
---