---


A-Z Artist Index
Compilations
Record Labels
Media
Help Needed
Contact Us
Resources
Timeline
---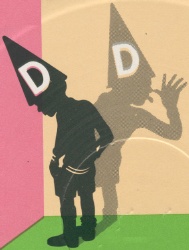 Double D Records [UK]
Double D Records was a UK label owned and operated by Dave Dee of sixties pop hit band Dave Dee, Dozy, Beaky, Mick, & Tich. I've included it here because of the releases by The Sweat and The Atrix, and also because there doesn't seem to be a discography for this label anywhere else on the net.

I've read in catalogues that this Features (there were several acts with this name) was an Irish band with a female singer but I haven't been able to verify this.

The first release is actually on Cool King Records but I've included it here because it is the first Double D Records co-release. There was another Double D label in 1980 who released a single by Sung By Jean but I assume there is no connection. Cool King released several more singles up to approx 1983 by Dumpy's Rusty Bolts among others.

Singles had the prefix D DEE. Albums DDLP.



Singles
D D 1	The Dance Band - Stacks of Tracks/Do You Wanna Dance  [March 1980] on "Cool King" Records and "A Double D Release"
D DEE 2	The Sweat - Why'd Ya Have To Lie/Hey Little Girl  [1980] (PS)
D DEE 3	The Features - Go Now / Make Me Wanna  [June 1980] (PS)
D DEE 4	Marianne Chase - Love Amnesia / Ghosts Of Love [8 August 1980] (PS)
D DEE 5	The Dance Band - Three Strings  [1980] (PS)
D DEE 6	The Kraze - Say Hello To My Girl / Friday Night  [October 1980] (PS)
D DEE 7	The Sweat - I Must Be Crazy/Ginny Don't Cry  [1980] (PS)
D DEE 8	The Atrix - Treasure On The Wasteland/Graphite Pile  [1980] (PS)

Albums
DDLP 1	Dance Band - Fancy Footwork [1980]
DDLP 2	The Sweat - No More Running [1980]
DDLP 3	Zed - s/t [1981]
DDLP 4	Motion - Eponymous [1981]




---

A-Z Artist Index
Compilations
Record Labels
Media
Help Needed
Contact Us
Resources
Timeline
---