---


A-Z Artist Index
Compilations
Record Labels
Media
Help Us!
Contact Us
Resources
Timeline
---
From: Drimnagh (like myself!), Dublin

Active: 60s onwards

Style: Pop / Contemporary



Colm Wilkinson in 1977

For What It's Worth...:

Colm Wilkinson was in touch to say that some of the details in the following biography are incorrect as they're taken from vintage press articles written by lazy journalists who got the facts wrong. He wasn't more specific, so I am unable to correct specific errors, and if I have to choose between the myth and nothing, I'll take the myth thanks--ed.
Bio:


"The Tremeloes are very enthusiastic about the prospects of bluesy singer Colm Wilkinson. He will go to London shortly to record some of his originals and will be produced by the Trems"--Ken Stewart, Billboard, 2 Oct 1971
Born Dublin 1944. Colm C.T. Wilkinson is a highly regarded singer with a strong, soulful voice whose recording career took several years to get off the ground. In 1960 at the age of 16 he joined the Chris Lamb Band. In an interview in 2007 he mentioned travelling to New York when he was 16 with a showband which included Louis Stewart on guitar. Was this Chris Lamb's band? The journalist didn't ask. By the mid-60s was singing with The Action, playing tennis and cricket clubs in suburban Dublin, offering a mixture of blues, soul, R&B and some Rock & Roll. He also played with Mick Ryan and the Four Keys and the Jim Doherty Band. When success eluded him, he gave up singing and returned to his day job, but after a few years he was back, this time with a showband The Witnesses (ca 1967-69), a northern group who were very popular in the clubs in Ireland, played soul and R&B in the army bases in Germany, and who also played hotel residencies in places like Puerto Rico, Nassau and the Bahamas, where they performed before and later met Elvis Presley. The Witnesses eventually relocated to Montreal in Canada. Wilkinson left the band in 1970, returning to Ireland and playing low key solo gigs mainly in the Dublin area for the next couple of years.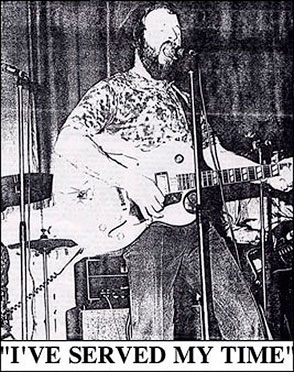 "I've served my time"... Spotlight magazine, 1973.




Wilkinson eventually found fame and fortune though his involvement in the world of musical theatre, in particular the musicals of Andrew Lloyd-Webber. His breakthrough was landing the role of Judas in the Irish cast of Jesus Christ Superstar produced at The Gaiety Theatre in Dublin in 1973. A year later he was pinched by the London production, which had been running since 1971 and had regular problems with the role of Judas as it a very demanding part. From here on he never looked back. He remained in the London cast until 1976.

Wilkinson made his recording debut in 1975 on the Demolition Man soundtrack and followed it the year after with Evita, singing the role of Che Guevara. He signed a solo deal with DJM Records in 1976 who released his debut single in April but for whatever reason DJM chose not to release his debut album, which was an Irish only release on Solo Records in 1977. Surprisingly, this has been his only proper solo LP release to date. He finished well in the 1977 National Song Contest with "There Was A Dream" (#2 hit in Ireland) and won it a year later with his own composition "Born To Sing", and duly went on to represent Ireland at the 1978 Eurovision, finishing fifth. Clive James ridiculed the song in the Sunday Times, writing that the title was clearly an oxymoron! (Has anyone heard Clive James LPs for RCA?) More musicals followed, and in the mid-80s Colm appeared in "Les Miserables", which eventually became a Broadway smash, establishing his fame worldwide. Les Mis is probably the role he is best known for . . . although in Ireland the Donnellys Sausages, Squeeze orange juice or Renault 4 adverts would come a close second.





Discography

• various artists - Demolition Man
LP - United Artists - UAG 29901 - UK - 1975
CT sings one track.


• various artists - Evita (Cast Recording)
2xLP - MCA Records - MCX 503 - UK - 1976


• My Happiness / Monday Coming On
7" - DJM Records - DJS 668 - UK - April 1976
Non-LP B-side


• There Was A Dream / The Devil and Miss Lucy
7" - Release Records - RL 862 - IRL - 1977
Entered the Irish charts on 10 March 1977 for a 9 week run, peaking at #2.


• The First of May / Deirdre
7" - Release Records - RL 876 - IRL - 1977
Non-LP B-side


• Your Kind Of Country
7" - Fianna Fail Records - FF 001 - IRL - June 1977 - promo only, some copies in diecut bag with lyrics printed on one side
matrix: ELE001


Notes: Promotional single issued by the Fianna Fail political party during the 1977 General Election in Ireland. The song is intended to inspire shiftless young people to become interested in politics. Instead it had them reaching for the off switch on their radios. One of the worst singles ever recorded. See also Cathal Dunne for more election tune madness.



• Colm C.T.Wilkinson
LP - Solo Records - SOLO 7015 - IRL - December 1977
Solo Records distributed by Release. #1 in the album charts for 8 weeks in 1978.

side one:
There Was A Dream
R And R Music
My Happiness (Peterson/Bergantine)
The Devil And Miss Lucy (Emerson)
What Am I Going To Do?
Can't Break The Habit (Ballard)

side two:
First of May (Gibb)
Goodbye Reno (Murphy)
Snow White City
Everyway
Old Man
Just For You
Notes: All songs by Colm Wilkinson unless otherwise stated. A mixed bag. Some tracks feature orchestration, others a small band format (no brass). There are no credits apart from arrangers (John Cameron, Dave Gold, John Tate and Noel Kelehan) and producers (Steve Roland, Tommy Ellis and Colm Wilkinson) which is a pity, as it would be interesting to know who plays on these tracks. . Most of Wilkinson's originals are gritty pop-rock or R&B numbers. The others expand his range, though some of his singing sounds derivative on these tracks. Nevertheless a very good album.



• R & R Music / The Old Man
7" - Solo Records - ??? - IRL - 14 September 1978


• Born To Sing / Simple Things in Life
7" - Polydor Records - 2090 287 - IRL - 1978
7" - RSO Records - RSO 009 - UK - 1978
1978 Eurovision entry, finishing fifth.
Entered the Irish charts on 20 April 1978 for a 4 week run, peaking at #8.


• various artists - Carousel: 20 Top Irish Hits
LP - K-Tel Records - KLP 1 - IRL - 1978
K-Tel Ireland's first LP release!
tracks: There Was A Dream / First Of May


• Up In The World / My Song For You
7" - Polydor Records - 2078 102 - IRL - 1979
A-side by Clifford T.Ward, B side by C.T.Wilkinson.
Entered the Irish charts on 8 July 1979 for 1 week, peaking at #24.


• Mother Ireland / The Music Man
7" - Polydor Records - 2078 106 - IRL - 1979 - PS
Entered the Irish charts on 9 September 1979 for a 3 week run, peaking at #23.


• The American Dream / Mangerton
7" - MIR Records - MIS 1232 - Sweden - 1980 - PS


• various artists - 16 Years of Irish Eurovision
LP - Warwick Records - WW 5104 - IRL - 1981
track: Born To Sing


• The Witness / Child of Destiny
7" - TC Records - TC 001 - IRL - 1984
Double A-side from the musical "Voices" by T.C.Doherty


• various artists - Les Miserables (Cast Recording)
2xLP - First Night - ENC 1 - UK - 1985
Cast recording including CT Wilkinson


• Bring Him Home / Who Am I?
2xLP - First Night - SCORE 7 - UK - 1985 - PS
from Les Miserables


• various artists - Tim Rice / Andrew Lloyd-Webber - Performance
LP - Telstar - STAR 2262 - UK - 198?
C.T. lead vocal on 2 tracks


• various artists - Dublin Songs
2xLP - K-Tel Records - DUB 1000 - IRL - 1988
Commemorating the Dublin Millenium celebrations


• Man Of La Mancha / Summertime
7" - RCA / BMG - PB 42831 - UK - 1989 - no PS, promo only
Credited to Colm Wilkinson with the London Philharmonic Orchestra.
Promotional single for the Stage Heroes LP.


• Stage Heroes
LP - RCA Victor - BL 74105 - Euro - 1989
Credited to Colm Wilkinson with the London Philharmonic Orchestra.


• various artists - Jekyll and Hyde
LP - RCA / BMG - 60416 - Euro - 199?
Featuring C.T.Wilkinson & Linda Eder






Help!


We need your help to correct and/or complete this entry. If you can provide more information about this band, have scans, photos or any other memorabilia we can use, or spare copies of any releases, then please get in touch.



---

See Also:

Thanks to TP McLaughlin
---

A-Z Artist Index
Compilations
Record Labels
Media
Help Us!
Contact Us
Resources
Timeline
---