---


A-Z Artist Index
Compilations
Record Labels
Media
Help Us!
Contact Us
Resources
Timeline
---
From: Galway

Active: 60s-70s

Style:

Lineup:
Eamon Cummins - lead guitar
Mike McMahon - guitar
Frank O'Connor - bass
Andy Fitzpatrick - drums
Bio: Galway's leading beat-group, actively gigging 1971-80 and beyond. John Small replaced Frank O'Connor in 1973. Reputedly recorded material for a single but I have no more details about that.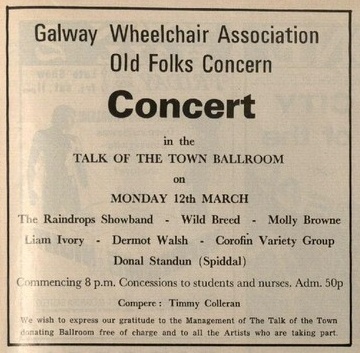 Benefit gig in March 1971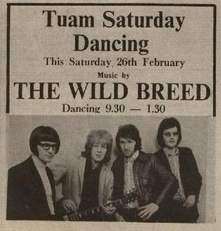 Gigs in 1972 in Tuam (February 20 ) and Saxo's Revolution in Galway (March 18)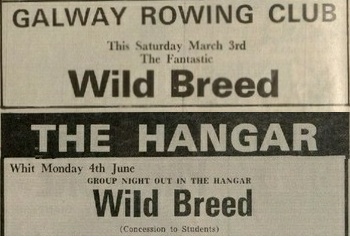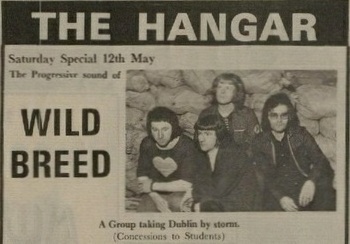 Gigs in 1973 in Galway vanues the Rowing Club (3 March) and The Hangar (12 May and 4 June)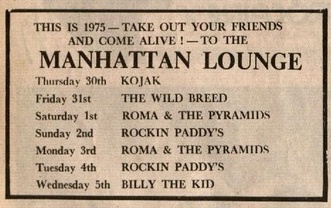 Still gigging in 1975 and 1978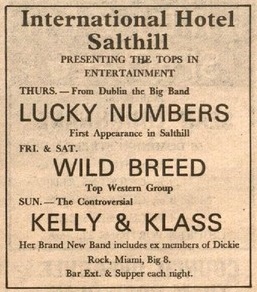 Still gigging in 1980





See also:



Help!: We need your help to complete this entry. If you can tell us more about this band then please do! We welcome any corrections, missing details, connections to other bands, where are they now, etc. We also need photos, scans, copies of releases or live or demo recordings, and any other memorabilia gathering dust in the attic. If you can help, then please get in touch.



---

A-Z Artist Index
Compilations
Record Labels
Media
Help Us!
Contact Us
Resources
Timeline
---