---


A-Z Artist Index
Compilations
Record Labels
Media
Help Us!
Contact Us
Resources
Timeline
---
From: Portrush

Active: 1983-87

Style: Heavy Metal

Lineup:
Jim Douglas - vocals
Peter Manley - guitar/backing vocals
Noel McAllister - bass
Budgie Diamond - drums
White Roxx, left to right (I hope) is Mark Lafferty, Jim Douglas, Noel McAllister and Peter Manley.
[photo courtesy Peter Manley]
Bio:

Formed in 1983 in the coastal town of Portrush Co.Antrim in Northern Ireland, White Roxx were a promising heavy metal band who didn't make it in the grand scheme of things but lived the rock and roll lifestyle to the full. Their myspace page contains downloads of many recordings including their demo tape and various live gigs. It also provides a detailed band history which makes them sound like Northern Ireland's answer to Motley Crue!

Initially a bluesy Hard Rock band, they progressed to a more agressive, Heavy Metal sound but their 1985 demo tape does not bare this out. Instead it offers a cleaner, more melodic take of their material. This was down to several factors: producer Clive Culbertson's inexperience recording heavy metal bands, the limitations of the recording facilities themselves, the addition of keyboards on some tracks, and (crucially) the decision to use a drum machine rather than a live drummer.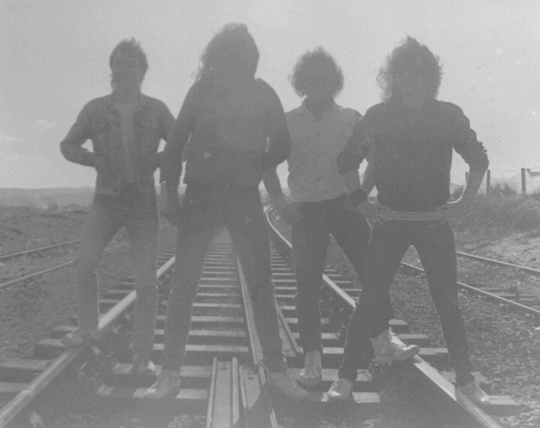 [photo courtesy Peter Manley]

This pop-metal demo proved to be too lightweight for the metal labels and too metal for everyone else. As such it was ahead of it's time. It did attract the attention of Terry Hooley who offered to manage the band, but they split up. A farewell reunion gig one year later was recorded and released on video. Another brief reunion with original members Douglas and McAllister joined by a new guitarist Iggy and an drummer Dave McBride (of Uncertain Trumpet among others) was short-lived.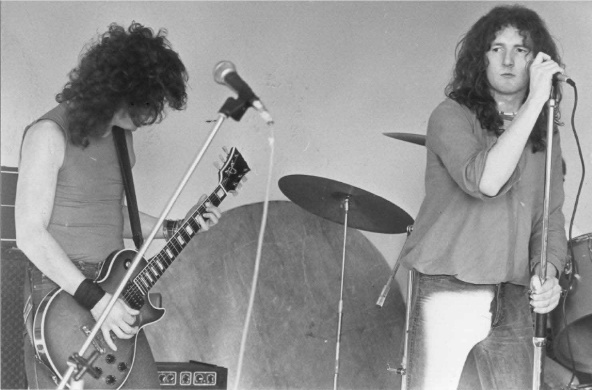 [photo courtesy Peter Manley]





Lineup: Jim Douglas (vocals), Peter Manley (ex Archie The Leper, guitar/backing vocals), Noel McAllister (bass), Budgie Diamond (drums). Budgie replaced early on by Mark Lafferty (drums). John Manley (of Archie The Leper) played drums for the 1988 reunion gig.





Discography

• On The Rocks
K7 - 1986 - demo tape, 300 copies
Recorded at No Sweat studios, produced by Clive Culbertson.

side 1
End of the World
Ride Out the Storm
Lonely Heart
Hungry For Love
We Live For Rockndole

side 2
Are You Ready for Love
Here Comes the Heart Ache
Cold Hearted Woman
Actions Speak Louder Than Words
The Arms of a Stranger
Notes: Peter Manley played all bass parts as Noel McAllister was out of commission thanks to a hand injury. A drum machine instead of a live drummer.



• On The Boxx
VHS - 1988 - video

tracks:
End Of The World
Ride Out The Storm
Stand Up And Fight
Actions Speak Louder Than Words
That'll Teach Her
Lonely Heart
We Live For Rock And Dole
Hungry For Love
Here Comes The Heart Ache
Are You Ready For Love
Arms Of A Stranger
Cry Wolf
Cold Hearted Woman
Notes: Live video recording of the band's farewell gig in 1988.
Help!
We need your help to correct and/or complete this entry. If you can provide more information about this band, have scans, photos or any other memorabilia we can use, or spare copies of any releases, then please get in touch.
---

See Also:


---

A-Z Artist Index
Compilations
Record Labels
Media
Help Us!
Contact Us
Resources
Timeline
---