---


A-Z Artist Index
Compilations
Record Labels
Media
Help Us!
Contact Us
Resources
Timeline
---
From: Dublin?

Active: 1970-71

Style:

Lineup:
Kevin Kennerney - vocals
Dave Flood - lead guitar
Derek Byrne - keyboards
Derek Kenny - bass
Dennis Bowes - drums


On the cover of Spotlight (bottom left, surrounded by children) in October 1971

Bio: I know almost nothing about this band. They were actively gigging in 1970 (Star Club in September 1970; supporting Pat Lynch & The Airchords in November 1970). and released a single on Polydor in 1971. They appeared on the front cover of Spotlight in October 1971 at the same time. Their name appears in contemporary media as both Tomorrows and To-morrows People, both with and without an apostrophe. They were still gigging in 1973. More details please.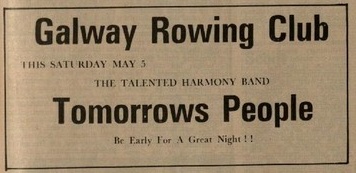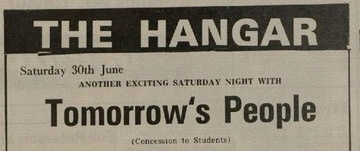 Still gigging in 1973


Discography:

• Hey To-night // Love Is Where You Find It / Time Is On My Side
7" - Polydor Records - 7-002 - IRL - 1971
Possibly a Creedence cover?





See also:



Help!: We need your help to complete this entry. If you can tell us more about this band then please do! We welcome any corrections, missing details, connections to other bands, where are they now, etc. We also need photos, scans, copies of releases or live or demo recordings, and any other memorabilia gathering dust in the attic. If you can help, then please get in touch.



---

A-Z Artist Index
Compilations
Record Labels
Media
Help Us!
Contact Us
Resources
Timeline
---