---


A-Z Artist Index
Compilations
Record Labels
Media
Help Us!
Contact Us
Resources
Timeline
---
From: Limerick
Active: 1967-69

Style: West Coast

Lineup:
Eugene Wallace - vocals
Johnny Fean - guitar
Joe O'Donnell - electric violin
Noel Franklin - bass
Eamon Walsh - drums




l-to-r: Johnny Fean, Joe O'Donnell, Noel Franklin,
Eamon Walsh, Eugene Wallace.
Bio:

Sweet Street AKA The Sweet Street Sect were a Limerick band who mixed West Coast sounds with UK psychedelia. They covered Jefferson Airplane, The Byrds ("Eight Miles High"), Tim Rose, Tim Hardin, Cream, Hendrix, Traffic ("Mr. Fantasy"), Steve Marriott, and so on. At the time they formed in 1967, Johnny Fean was 16 and Joe O'Donnell was 19. Fean had already mastered guitar, banjo, mandolin and harmonica and was known from playing in sessions in Limerick and Clare. O'Donnell was classically trained.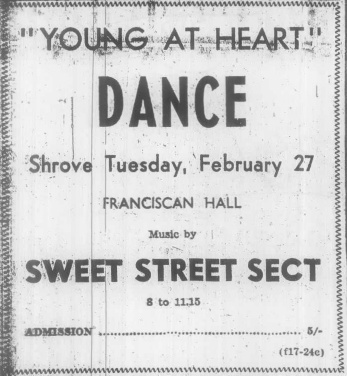 Sweet Street Sect at the Franciscan Hall, Limerick on Shrove Tuesday 27 Feb 1968.




There are no known recordings. Sweet Street may also have been known for a period as Playground (can anyone confirm this?). Joe O'Donnell also had a short stint as guitarist with another Limerick band Granny's Intentions.

Sweet Street folded when Joe O'Donnell moved to Dublin to study at the Royal Irish Academy of Music. He was later in numerous bands including the Woods Band and East of Eden. Johnny Fean was later in Silver Spoon, Jimmy Skinner, Jeremiah Henry and Horslips. Eugene Wallace joined Macbeth and later went solo.






See also: Granny's Intentions, Jeremiah Henry, Jimmy Skinner, Macbeth, Joe O'Donnell, Eugene Wallace



Help!: We need your help to complete this entry. If you can tell us more about this band then please do! We welcome any corrections, missing details, connections to other bands, where are they now, etc. We also need photos, scans, copies of releases or live or demo recordings, and any other memorabilia gathering dust in the attic. If you can help, then please get in touch.



---

A-Z Artist Index
Compilations
Record Labels
Media
Help Us!
Contact Us
Resources
Timeline
---