---


A-Z Artist Index
Compilations
Record Labels
Media
Help Us!
Contact Us
Resources
Timeline
---
- under construction-
From: Northern Ireland/UK

Active: 1971-72

Style: Rock

Lineup:
Jim Cregan - vocals, guitar
John Weider - violin, guitar [June 1971 onwards]
Richard McCracken - bass
John Wilson - drums

BASF promo photo
l-to-r: Richard McCracken, Jim Cregan, John Wilson, John Weider
Bio:

Stud began as a trio with Jim Cregan (ex Blossom Toes) (vocals, guitar), Richard McCracken (bass) and John Wilson (drums), the latter pair having split with Rory Gallagher's Taste on 31st December 1970. They were signed by Deram Records. Ex Family violinist John Weider joined the band in June 1971, in time to appear on the debut LP which was released to little acclaim. While the musicianship on show is top notch, some of the material lacks distinction and meanders too often. The LP sold poorly and Deram declined the option of a follow up.

The band had more success in Germany, where Polydor had released the debut in different cover artwork. After some very succesful German tours and TV appearances, Stud signed to the BASF label and released their second album "September" in 1972, housed in a memorable gatefold cover, but they split soon after: Jim Cregan left to join Family on bass in August 1972 and was later in Cockney Rebel and Rod Stewart's band; Richard McCracken left for the Spencer Davis Group. BASF released a posthumous third album "Gooodbye" in 1973, containing a live in the studio performance recorded in May 1972. Wilson joined Brush Shiels mid-70s incarnation of Skid Row, and continued to work as a musician based in Belfast, playing both sessions and live work.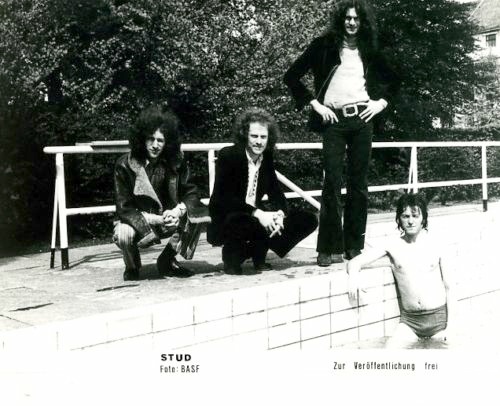 BASF promo photo
l-to-r: Weider, Cregan, McCracken, Wilson



Discography:

• s/t
LP - Deram Records - ??? - UK - 1971
LP - Polydor Records - ??? - Germany - 1971 - different cover
CD - Esoteric - 2053 - UK - 2008



side one:
Sail On
Turn Over the Pages
1112235

side two:
Harpo's Head
Horizon: Here/There
Song


• September
LP - BASF Records - 20 29054-9 - Germany - 1972 - foc
LP - BASF Records - 29054 - France - 1972 - foc
CD - Air Mail - 1548 - Japan -



side one:
Good Things
God Knows
Corner
Life Without Music
Samurai
Five to Mid-Day
Prelude
Bad Handlin
Ocean Boogie
Red Wine


• Goodbye (Live At Command)
LP - BASF Records - 20 29117-0 - Germany - 1973
CD - Air Mail - 1549 - Japan -
Recorded live in May 1972.



side one:
Samurai
Big Bill's Banjo Band
Horizon No. 2
Ocean Boogie
Harpo's Head No. 2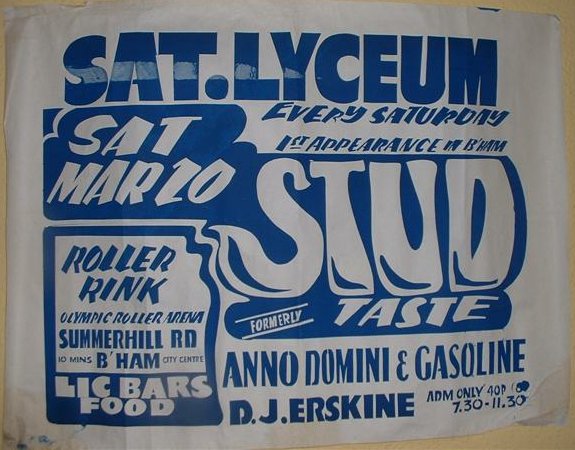 Stud formerly Taste: Poster for the Lyceum, Birmingham, Saturday 20th March 1971
with support bands Anno Domini and Gasoline.




See also: Taste

External Links:




Help!: We need your help to complete this entry. If you can tell us more about this band then please do! We welcome any corrections, missing details, connections to other bands, where are they now, etc. We also need photos, scans, copies of releases or live or demo recordings, and any other memorabilia gathering dust in the attic. If you can help, then please get in touch.



---

A-Z Artist Index
Compilations
Record Labels
Media
Help Us!
Contact Us
Resources
Timeline
---