---


A-Z Artist Index
Compilations
Record Labels
Media
Help Us!
Contact Us
Resources
Timeline
---
From: IRL

Active: 1977-?

Style: Punk

Lineup:
Paul West - vocals
Crow - guitar
Peege - guitar
Jimmy - bass
Ger - drums
Bio:

Their single was the first Northern Irish punk rock record and the first release on the Portadown based It Records label. It was recorded in 1977 in a studio in Dublin. Speed split shortly after it's release but recorded a second single for the same label a month later as Midnite Cruiser.

Paul West is AKA Paul Maxwell, later of The Tearjerkers.

This is not the Speed on the "Identity Parade" compilaton LP on TJM Records (TJMLP3, 1980) who were from Manchester.





Discography

• Big City / All Day & All Of The Night
7" - It Records - IT-1 - IRL - November 1977 - PS
Kinks cover on the B-side.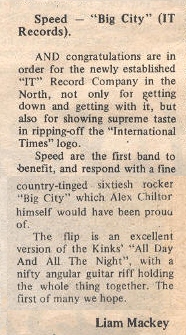 Liam Mackey's review in Hot Press, vol.1 nr.10, October 1977



Help!


We need your help to correct and/or complete this entry. If you can provide more information about this band, have scans, photos or any other memorabilia we can use, or spare copies of any releases, then please get in touch.



---

See Also: Midnite Cruiser, The Tearjerkers


---

A-Z Artist Index
Compilations
Record Labels
Media
Help Us!
Contact Us
Resources
Timeline
---