---


A-Z Artist Index
Compilations
Record Labels
Media
Help Us!
Contact Us
Resources
Timeline
---
From: Omagh, N.IRL

Active: 1968-74

Style: Soul Rock

Lineup (1968-74):
Simon Scott - vocals
Alan McCartney - guitar
Rob Strong - bass, vocals
Gerry McIlduff - drums
Ivan Laybourne - keyboards [left for The Freshmen in 1971]
Ray Moore - organ, trumpet
Pat Chesters - sax
John Trotter - piano, fiddle, trombone [1971-74]


The Plattermen in the mid-60s ...


...in 1969

...the in the early 1970s

Bio:

The Plattermen were a showband whose roots stretched back to the late 1950s. As Brian Coll & The Plattermen, they were a well-established, well-known showband whose hayday was in the mid-60s. This band released several inoffensive, anaemic, country-tinged records on the Emerald Gem label, i.e. records like this:

A Brian Coll & The Plattermen LP from 1970 (Emerald Gem GES 1042).
The title says it all!

In 1967, Rob Strong and Alan McCartney joind the band on bass and guitar respectively. These beat/R&B-oriented musicians were sometimes at odds with the brass section and the country-tinged material the band included in their set. Brian Coll left in 1968 to form The Buckaroos, though his record label continued to issue albums credited to the Brian Coll & The Plattermen name well into the 1970s. He later pursued a solo career as a cabaret artist. Coll's replacement was Simon Scott.

The Plattermen dropped the country material from their live set and became a Blood Sweat & Tears/Chicago style rock outfit with Rob Strong's soulful vocals backing up Simon Scott and occasionally taking the lead. Their sound had elements of rock, jazzrock, blues, soul, R&B and funk. They continued to play the ballroom circuit and continued to draw good crowds. They were able to cross the line from club band to showband and vice versa without compromising their material. In 1971 they announced they were moving in a heavier direction. Ken Stewart described their show at the Television Club Dublin in 1971 as Afro-rock, complete with fire eaters onstage. They appeared on RTE "Caught In The Act" pop show in Oct 1971 and UTV's "Their Kind of Music" in July or August 1972. Finally their debut LP emerged on Dolphin Records on the 1st of December 1972. Many of the songs are Strong & McCartney originals. While some of the material is a little underwhelming, and some of the brass backing band is a little overwhelming at times, it has some great tracks on it, including the killer "African Wah-Wah". This LP is well worth tracking down.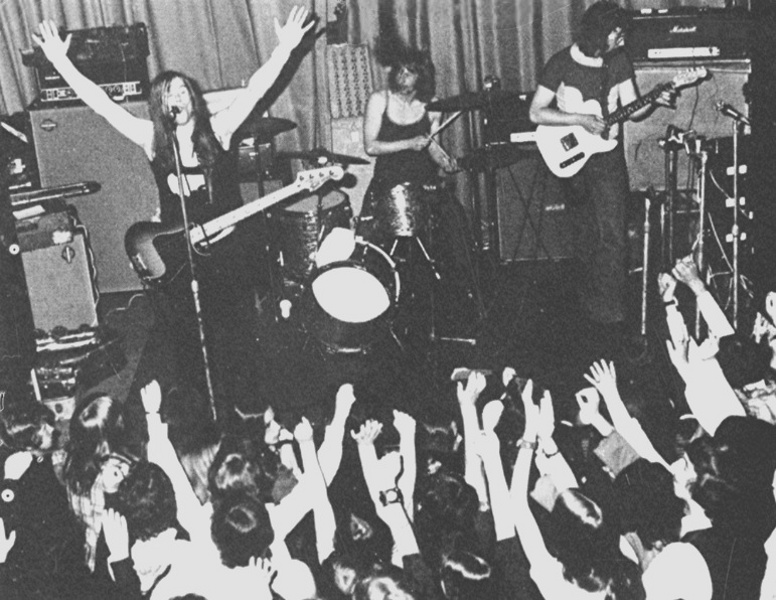 Live shot from the back cover of the 'Old Devil Wine' LP.


In 1973 they issued a single for Vertigo Records under the name Hammer. This single is excellent with some especially rabble-rousing vocals from Rob Strong. The band also appeared on RTE TV's "The Musicmakers" during this period.

On the cover of Spotlight, July 1973: Rob Strong second from left; Gerry McIlduff, extreme right.




Gig adverts from 1973 and 1974.

This phase of the band came to an end in 1974. Rob Strong formed Las Vegas and later went solo. The Plattermen continued as a pop band during 1974-78 with Simon Scott as sole frontman. In the late 70s, a singer named Rock Stewart was often billed as Rock Stewart & Plattermen, though there was no link to the band.





Discography:

• Simon Scott & The Plattermen - Red Red Wine / Yesterday Girl
7" - Dolphin Records - DOS 20 - IRL - 1968
Simon Scott lead vocals.


• Simon Scott & The Plattermen - Yellow Van / Smiling Faces
7" - Dolphin Records - DOS 54 - IRL - 1969
Simon Scott lead vocals on A-side, Rob Strong on the cover of Traffic's 'Smiling Faces'.


• Rob Strong & The Plattermen - And When I Die / Or I'll Die
7" - Dolphin Records - DOS 65 - IRL - 1970
Rob Strong lead vocals.


• The Plattermen featuring Rob Strong Blue / Love For All Seasons
7" - Dolphin Records - DOS 82 - IRL - 1971
Rob Strong lead vocals.


• Message To The People / African Wah Wah
7" - Dolphin Records - DOS 90 - IRL - 1971
Produced by Pat Morley, recorded in Eamonn Andrews Studios Dublin.


• Old Devil Wine
LP - Dolphin Records - DOL 1005 - IRL - 1 December 1972 - insert
Many originals by Rob Strong and Alan McCartney.



side one:
Old Devil Wine
Play To-Day, Play To-Day
Julie
African Wah Wah
Love Song
Gimme That Wine
Blue

side two:
Catís Eye
Country Boy Blues
Thatís It
You Donít Love Me
Help Me Doctor Jesus
Iím Goiní Home
Tawny Wine


• Hammer - Rock Off / Rock'N'Roll Band
7" - Vertigo Records - 6059 084 - UK - 1973 - no PS





See also: Rob Strong



Help!: We need your help to complete this entry. If you can tell us more about this band then please do! We welcome any corrections, missing details, connections to other bands, where are they now, etc. We also need photos, scans, copies of releases or live or demo recordings, and any other memorabilia gathering dust in the attic. If you can help, then please get in touch.

thanks ...


---

A-Z Artist Index
Compilations
Record Labels
Media
Help Us!
Contact Us
Resources
Timeline
---