---



A-Z Artist Index Compilations Record Labels
Help Us! Contact Us | Resources Links Timeline Videos
---
From: Galway

Active: 1965-1980

Style:

Lineup 1965-67:
Dermot Ward - lead vocals, piano, organ
Joe Lally - rhythm guitar
Jarlath Reidy - bass guitar (1965-73)
Don Lydon - drums


The original Philosophers onstage in Galway in the mid-to-late 1960s
L-R: Dermot Ward, Joe Lally, Don Lydon, Jarlath Reidy

Other Members:
Christy Donnelly (or Donnell?) - lead guitar (1967-)
John Glynn - rhythm guitar
Declan Kennedy - guitar
Dave Cazabon - bass (1973-)
Don Woods - bass
Johnny Grant - organ, keyboards
Cyril Fullard (RIP) - sax
Mike Healy - trumpet
Mike Anderson - drums
Gerry Fahy - ?
Garret (Gearoid) O'Dowd - trumpet (1972-75)
Mike Cazabon AKA Samba (#1) - vocals
Gerry Cazabon (RIP) AKA Samba (#2) - vocals

Sixman lineup of the Philosophers on an advert for a gig at The Hangar, Galway in August 1972
Bio:

The Philosophers formed in the mid-60s. They emerged from a trio that played the Hotel Oslo in Salthill, across the road from the Seapoint Ballroom. The Oslo had a large space at the back used for dancing on a Sunday night all year-round, and for entertainment the other 6 nights of the week during the summer months. In the summer of 1965, the musical accompaniment for all this activity was provided by Brendan Bird (organ, vocals), Dermot Ward (piano) and Don Lydon (drums). When the summer season ended, Ward and Lydon went on to form The Philosophers with Ja Reidy and Joe Lally, in the Autumn of 1965. The band played the Sunday night dances at The Oslo for three years running. Those who saw them claim the 1965-68 Philosophers were as good as any band of the time.

The core members of the 1965-68 band were Dermot Ward, Don Lydon and Jarlath Reidy. Other key members during the 1965-68 period include John Glynn (rhythm guitar), Johnny Grant (organ), Joe Lally (rhythm guitar) and later Christy Donnelly (Joe Lally left in 1967 and was replaced by Christy Donnelly, ex Galway Blazers Showband). The Philosophers became the most popular band in the then thriving Galway scene. All were students at U.C.G. at the time and all had experience in earlier bands. Their repertoire consisted of cover versions of the hits of the day, with special emphasis on the music of the Beach Boys, The Beatles, The Hollies, The Everlys and The Four Seasons and R&B artists like Chuck Berry. Besides The Oslo gig, they had a regular Saturday night residency in Glenina. In November 1966 they were the first group to play live on the Late Late Show on RTE and they played regularly on Larry Gogan's 17 Club radio show.

In 1968 The Philosophers added to brass players to the lineup, including Cyril Fullard, and went on the road, thus ending their Oslo residency.

In 1969 The Philosophers released their debut single on Target (Pye in the UK) "Back At The Lodge" which featured their characteristic four part vocal harmonies. This and the followup "Lovedene Girls" were minor hits in Ireland. These are comparable to the works of The Freshmen. They also covered the Everly's "So Sad". They continued to record into the early 70s for various record labels (Honey, Hit, Play, IRL), recordings which are reputedly comparable to The Memories. The lineup expanded over this period and was augmented for a time with a brass section (horn section). By this time Dermot Ward was the acknowledged band leader.

Jarlath Reidy left to form his own band Billy Kidd and Rock and Roll Circus in 1973 and was replaced by Dave Cazabon (bass). Gearoid O'Dowd also joined Billy Kidd and Rock and Roll Circus. They played a six month residency in a bar in New York before splitting up.

There is a 2-3 year gap in the mid-70s with no recordings, after which they returned to vinyl in 1977 with singles for EMI and the indie Quartz label. Some of these later singles are credited to The Philosophers featuring Dermot Ward or the regrettable Samba & The Philosophers. The original Samba was Mike Cazabon. He was later replaced by his brother Gerry. This later period also included Declan Kennedy on guitar and Don Woods on bass, but I haven't got the lineup changes straight yet.

These later singles, while occasionally bordering on novelty releases, are not without merit and feature interesting guitar work. "The Great Disco Fiddle" is a cod reggae novelty single. "5,4,3,2,1" is stomping pub rock. The version of "It's All Over Now" is remarkable as it sounds like none of the musicians involved were familiar with the original version, which seems impossible...

In 1980 or 1981 a single by the SBB Band came out on Release Records with Dermot Ward compositions on the A and B side, "Maggie" and "5,4,3,2,1". It's highly likely that SBB's backing band was in fact The Philosophers. SBB was an Irish TV and radio personality who inflicted several singles on the record buying public. He'd been involved with the band on occasion as a promoter. The Philosophers may have appeared on his SBB Ina Shui TV show on RTE.

By December 1980 Ward was fronting The Dermot Ward Quartet.

The original drummer Don Lydon became a Fianna Fail senator. Gearoid O'Dowd has published a book containing an account of his uncle's time with the SAS during WWII titled 'He Who Dared And Died' (published by Pen And Sword Military).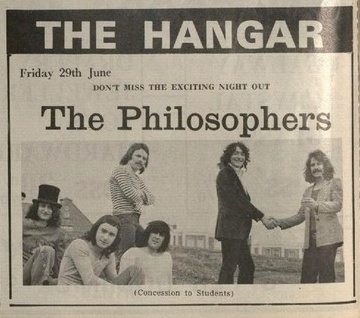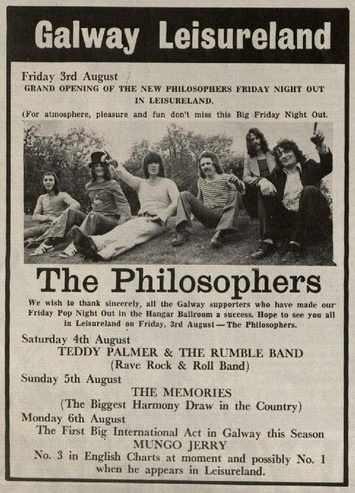 Galway gigs ar The Hangar and Leisureland, 1973


Discography

• Back At The Lodge / Don't Hold Me Back Baby
7" - Target Records - 7N 17700 - 1969
7" - Pye Records - 7N 17700 - 14 February 1969
7" - Shaft Records - SF.402 - 1979 - reissue, undated
B-side by Dermot Ward.
The Shaft reissue is credited to Samba & The Philosophers even though it was recorded in 1969 which Samba (Mike Cazabon) was bearly 10 years old.


• Lovedene Girls / I Believe Forever
7" - Target Records - 7N 17740 - 1969


• Hey Girl / Smile (Theme from 'Modern Times')
7" - Honey Records - COMB 11 - 1969
A-side by J & M Phillips, B-side by Chaplin/Turner/Parsons.


• Live Rock / Brazila (instrumental)
7" - Honey Records - COMB 17 - 1970
The A-side is a medley consisting of Tutti Frutti / Rip It Up / Reelin & Rockin.


• Put Your Hand In The Hand / Tijuana Taxi
7" - Hit Records - HIT 9 - 1971


• Sing Fool Sing / Admiral Halsey
7" - Play Records - PLAY 43 - November 1972
Double A-side, 'Admiral Halsey' by Paul McCartney


• Samba & Philosophers - Bonapartes Retreat / Be My Day
7" - IRL Records - IRL 225 - 1974
Arranged and produced by Gerry Hughes. B-side by L.Murray.


• Songwriter / Come On Junior
7" - EMI Records - IEMI 5068 - 1977
A-side by Dermot Ward


• The Philosophers - Songwriter / Come On Junior (Wake Up)
7" - EMI Records - IEMI 5068 - 1977
7" - Shaft/Release Records - SF.403 - 1979? - PS, undated
A-side by Ward, B-side by Kennedy. Arranged/produced by Jerry Hughes.


• Samantha / Got Along Without You Before
7" - EMI Records - IEMI 5073 - 1977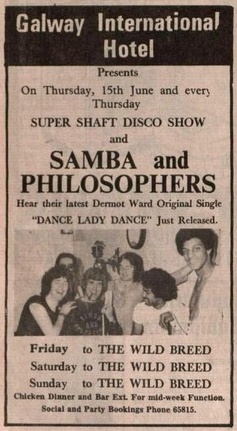 • Samba & Philosophers - Dance Lady Dance / 5, 4, 3, 2, 1
7" - Quartz Records - QS 003 - 1978 - no PS


• The Philosophers featuring Dermot Ward - The Great Disco Fiddle / Jamaica
7" - Quartz Records - QS 007 - 1979 - no PS


• Samba & The Philosophers - It's All Over Now / Summer Time Song
7" - Shaft/Release Records - SF.401 - 1979? - PS


• SBB Band - Maggie / 5,4,3,2,1
7" - Release Records - RL 1044 - IRL - ca 1980 - PS
My guess is this is the Philosophers backing Sean Ban Breathnach.



Help!


We need your help to correct and/or complete this entry. If you can provide more information about this band, have scans, photos or any other memorabilia we can use, or spare copies of any releases, then please get in touch.



---

See Also:

Thanks to Oliver Muldoon
---


A-Z Artist Index Compilations Record Labels
Help Us! Contact Us | Resources Links Timeline Videos
---