---


A-Z Artist Index
Compilations
Record Labels
Media
Help Us!
Contact Us
Resources
Timeline
---
From: Dublin

Active: 1986-87; 1989-91

Style:

Lineup:
Justin Kelly - vocals
David Meagher - guitar
Paddy Glackin - bass, replaced by Aidan McNamara in 1989
Noel Larkin - drums
Stephen Farrell - keyboards (1990-91 era)


Live at the Rock Garden Dublin circa 1990. l-to-r: David Meagher, Noel Larkin (obscured),
Justin Kelly, Aidan McNamara, Stephen Farrell
Bio:

The band existed in two distinct phases. The first was active during 1986-87 when the lineup was Justin Kelly (vocals), David Meagher (guitar), Paddy Glackin (bass), and Noel Larkin (drums). This version of the band appears on the Comet Records sampler.

The second phase lasted from 1989-91. The lineup was the same apart from Aidan McNamara repacing Paddy Glackin on bass. Stephen Farrell joined on keyboards during 1990-91. This second phase recorded much stronger material, including the Firewalking EP an excellent single "Swerve" / "Justice" which unfortunately was never released (no test pressings either). There are many more unreleased recordings.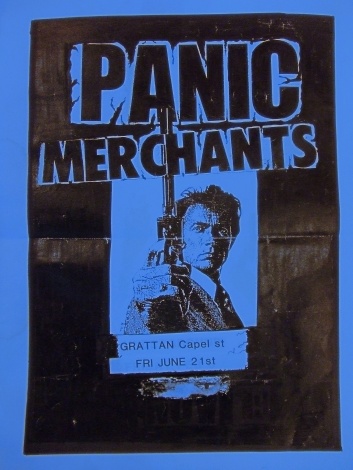 Discography

• various artists - Comet LP Two
LP - Comet Records - COME 2 TP - IRL - 1987?
See Compilations section for full track listing.




track: Retro
Recorded at Slane Recording Studios, Navan, with production & engineering by John Dee.



• Firewalking EP
K7 - self-released - TPM001 - IRL - 1990




tracks: Stop Loving You / Ghost Train / Honeymoon



• Swerve / Justice
7" - unreleased - c1991



Help!


We need your help to correct and/or complete this entry. If you can provide more information about this band, have scans, photos or any other memorabilia we can use, or spare copies of any releases, then please get in touch.



---

See Also:

External Links: Panic Merchants on myspace


---

A-Z Artist Index
Compilations
Record Labels
Media
Help Us!
Contact Us
Resources
Timeline
---