---


A-Z Artist Index
Compilations
Record Labels
Media
Help Us!
Contact Us
Resources
Timeline
---



From: Bangor

Active: 1987-1993

Style: Power / Thrash / Heavy Metal

Lineup:
Tim Rice - guitar/vocals
Burt McAuley - lead guitar
Jeremy Young - bass
Andy McCullough - drums


Panic, L-R: Burt McAuley, Tim Rice, Andy McCullough, Jeremy Young.
[photo courtesy Jeremy Young]
Bio:

Not to be confused with the short-lived Dublin thrash band, this Panic hailed from Bangor and were active for a number of years and appear to have enjoyed a much higher profile than their Dublin namesakes: their 1990 demo was reviewed in the metal press, they won their heat of the Friday Rock Show competition on (BBC) Radio 1, and they supported DRI at McGonagles in Dublin. They also supported Slammer and Wolfsbane in Belfast and played regularly in Rosetta in Belfast and 5150 in Drogheda.

Their 6 song demo is excellent and it's surprising it never made it on to vinyl.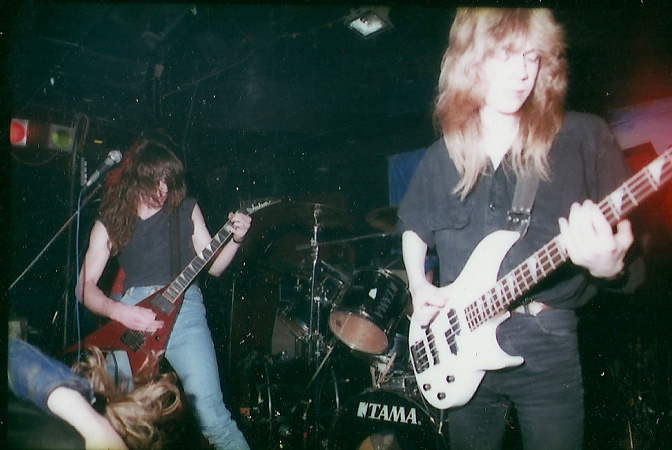 [photo courtesy Jeremy Young]


Discography

• Too Scared To Panic!
K7 - demo - 1990

tracks:
Metalwrath
Fury
Murder Pays
Misanthrope
Sweet Revenge
FOOD
Notes: All original material. Reviewed in Metal Hammer and Kerrang.

Metal Hammer reviews: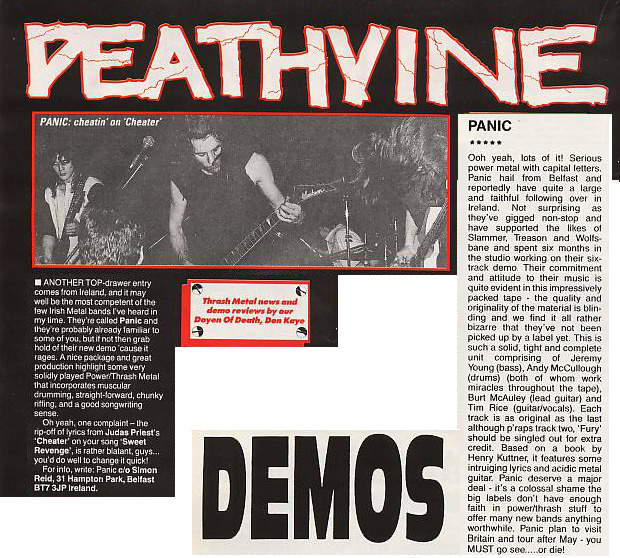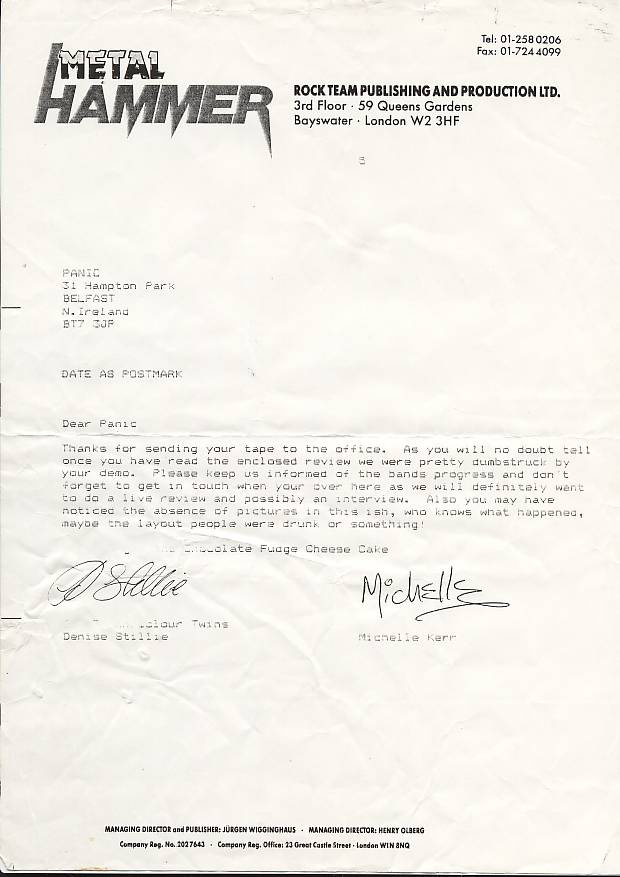 ---

See Also:


---

A-Z Artist Index
Compilations
Record Labels
Media
Help Us!
Contact Us
Resources
Timeline
---