---


A-Z Artist Index
Compilations
Record Labels
Media
Help Us!
Contact Us
Resources
Timeline
---
From: Dublin
Active: 1967-72; 1973-74
Style:

Lineup: (1967-69)
John Hughes - guitar/vocals
Tony 'Bop' Byrne - lead guitar
Donal Hurley - rhythm guitar
Willie Hughes - bass?
Lyndsay Ryan - drums
Lineup: (1972-73)
Reg Walker - vocals
Alan Grundy - lead guitar
Mick Goode - organ
Eddie Shaw - bass
Brendan Moran - drums


Ned Spoone in 1973, left-to-right: Mick Goode, Reg Walker, Brendan Moran, Eddie Shaw, Alan Grundy.
Bio:

Ned Spoone was formed by John and Willie Hughes in 1967. They were from the Sandymount area of Dublin. They were a pop/rock band who played covers of charts hits as well as things like The Beatles. Original lead guitarist Tony 'Bop' Byrne was replaced by Alan Grundy in August 1969, by which time the name had been shortened to Ned Spoone. Grundy and drummer Lyndsay Ryan began to pull the band in a Hendrix/Cream direction.

They are commonly referred to in the contemporary press as Ned Spoon, i.e. without an 'e' at the end, but both of their singles spell the name Ned Spoone. On at least one occasion they were billed as Ned Sponge! The name is a reference to the Goon Show, and up to 1969 the band's full name was Ned Spoone and the Safari Elephants.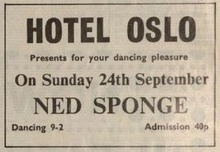 Surely some mistake?! Ned Sponge at Hotel Oslo, Galway, 25 Sept 1972





Donal Hurley and the Hughes brothers left in the summer of 1971. The Hughes boys had become interested in meditation and different musical approaches. They formed the acoustic hippie duo Highway Alan Grundy and Lyndsay Ryan continued as a power trio with ex Watchtower bassist Eddie Shaw, who joined them in September 1971. By this time the Cream/Taste/Hendrix power trio format was outmoded, and they were looking for a change. When they heard that ex Love Street/Others drummer/singer Reggie Walker was trying to form a band with organist Mike Good, they joined forces and Ned Spoone Mk.II was formed, in late 1971 or early 1972. This band was inspired by Black Sabbath, Deep Purple and the Doors. They were mananged by Tom Nevin. Lyndsay Ryan developed a problem with his leg from playing and had to leave in August 1972. His place was taken by Brendan Moran.

Ned Spoone recorded their debut single at at Eamonn Andrews Studios in March 1972. It was released on Pye during the summer. Both sides were cover versions, the James Gang's "Walk Away" on the A-side, and Humble Pie's "Red Light Mama, Red Hot" on the B-side. These choices give some indication of the bands sound. RTE Radio DJ Larry Gogan loved it and entered it in the European Pop Jury radio show. The band were subsequently invited to appear on RTE Radio DJ Ken Stewart's Ken's Klub radio show in the Autumn. Ken's Klub was a forerunner of the Fanning sessions on RTE. Bands were invited to record some live-in-the-studio tracks at a studio at the top of O'Connell's St in Dublin. These were broadcast at a later date, so strictly speaking they were not 'live'. Ned Spoone were on stage at the Carlton in Kilkeny the night their Ken's Klub appearance was broadcast, introduced as "Straight from Ken's Klub". Reg Walker had a sore throat during the session, and as a result some of the 5 tracks the band recorded for Ken's Klub aren't great. The best track was another Humble Pie cover, "Four Day Creep", which was later recorded for the band's second single, with a band original on the B-side. This was released on Play Records in 1973. The credits on the labels are reversed by accident: "Four Day Creep" should be credited to (Ida) Cox though it's source is undoubtedly Humble Pie's Performance album, while the A-side "Look To Your Soul" is a band original and should be credited to 'Spoone'.

They supported Thin Lizzy at the National Stadium in Dublin on 10 January 1973 along with Jangle Dangle. The contined into 1973-74. The live set of this period included lots of covers (Hendrix, Uriah Heep, Deep Purple, etc).

John and Willie Hughes were later in the acoustic hippie duo Highway and early 1980s electro-pop duo Minor Detail. Willie Hughes is currently manager of the Corrs.





Discography:

• Walk Away / Red Light Mama, Red Hot
7" - Pye Records - 7N 60016 - IRL - 1972
Recorded at Eamonn Andrews Studios in March 1972.


• Look To Your Soul / Four Day Creep
7" - Play Records - PLAY 57 - IRL - 1973
The songwriting credits are reversed.





See also: Love Street, Watchtower




Help!: We need your help to complete this entry. If you can tell us more about this band then please do! We welcome any corrections, missing details, connections to other bands, where are they now, etc. We also need photos, scans, copies of releases or live or demo recordings, and any other memorabilia gathering dust in the attic. If you can help, then please get in touch.



---

A-Z Artist Index
Compilations
Record Labels
Media
Help Us!
Contact Us
Resources
Timeline
---