---


A-Z Artist Index
Compilations
Record Labels
Media
Help Us!
Contact Us
Resources
Timeline
---
From: Dublin

Active: 1982-83

Style: Punk

Lineup:
Big Kev - vocals
Dave 'Sid' O'Byrne - guitar
Paul 'Rocky' O'Rourke - bass
Gerry Donohoe - drums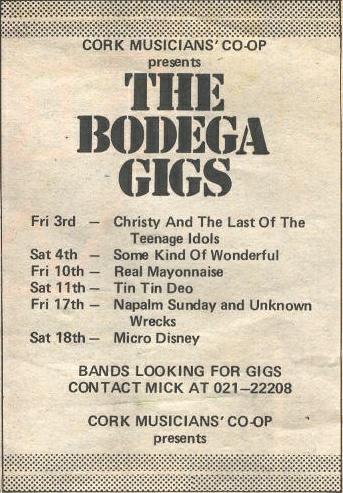 Bogeda gigs December 1982





Bio:

Formed in early 1982 by Gerry Donohoe (drums) and Paul O'Rourke (bass, ex Side FX, Neu Belsen, The Threat, also in Driver) who wrote most of the songs, with Sid O'Byrne (guitar) and Big Kev on vocals. Sid's older brother Des O'Byrne joined the band as a sideline to his Golden Horde work, adding some discipline and filling out Sid's lead guitar with rhythm guitar (another brother Hugh 'Skinny' O'Byrne played drums in Aidan Walsh's backing band The Screaming Eagles). They recorded a 4 song demo at Rubber Studios.

They played at the "Let's Get Serious 2" punk festival held at the TV Club on the 30 September 1983 featuring the cream of Dublin's punk bands at the time plus headliner Conflict. The band almost lined up a tour of Holland but it fell through due to their slackness and fondness for partying. Sid O'Byrne later formed Search And Destroy. Rocky and Sid now reside in the US, while Gerry is in Sydney.

The band appeared on TV (RTE) (details, anyone?). There's at least one unrecorded song, "Evo Stik", by Big Kev. Other songs (apart from those on the demio) include "Double Standards" and "War".

The bands name was sometimes listed as Na-psalm Sunday. There was never a drummer named 'Aido', this was a misprint in a fanzine.





Discography

• 4-song demo
K7 - demo - 1982

tracks:
Orange Boys
Pagan
Schizo boy
Catalogue
Help!
We need your help to correct and/or complete this entry. If you can provide more information about this band, have scans, photos or any other memorabilia we can use, or spare copies of any releases, then please get in touch.
---

See Also:


---

A-Z Artist Index
Compilations
Record Labels
Media
Help Us!
Contact Us
Resources
Timeline
---