---


A-Z Artist Index
Compilations
Record Labels
Media
Help Us!
Contact Us
Resources
Timeline
---
// -->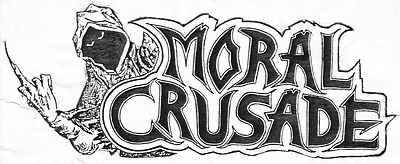 From: Dublin

Active: 1988-

Style: Thrash Metal/Heavy Metal

Lineup:
Pincher - vocals
Paul Kennedy AKA Ratz - guitars
Mano - bass
Joe - drums


Bio:

Moral Crusade were a thrash metal band who'd previously been known as Chromatic Death. Guitarist Paul Kennedy had earlier been in Killer Watt. Original bassist Trevor Elliott who left after recording the "Immoral Condition" demo in 1989 had previously been in Dublin band Panic. He was replaced by Mano and it was this lineup -- the same as Chromatic Death -- who recorded Moral Condition's sole LP "An Act Of Violence" in 1990.

Moral Crusade appear in John Fay's documentary "Positively" about the Dublin thrash scene in 1989. The film closed with a live performance of "Streetwise". Check the Videos page for details of the links.



Official Moral Crusade bio 1989:
(note this info is 20 years old so there is no tour imminent!!)

Moral Crusade is Joe-drums, Ratz-guitars, Mano-bass, Dave-vocals. Situated in Dublin, they formed back in June '88 amidst the ashes of two other bands, Killer Watt and Chromatic Death. Killer Watt, a successful thrash act, had released a 12" EP entitled "Death" and had gained a strong following but Ratz dissuaded with the bands future left. Meanwhole he had also been playing with Chromatic Death, a hardcore outfit who had released a ten track demo entitled "Hoody-core" but due to a number of different problems decided to split too.

Well Joe, who had been playing drums in Chromatic Death, got together with Ratz and started jamming some new songs for a new band. At this point they enlisted the help of Trev on bass (ex Killer Watt). They got a bunch of songs together and decided it was time to find a vocalist. Dave (ex Chromatic Death) was their first choice and after several rehearsals he became the permanent vocalist with Moral Crusade.

In September '88 the band went into Electra Studios with engineer Paul Lacey to record their first demo. The demo entitled "Immoral Condition" featured four killer tracks: "When The World Dies", "Hate War", "Killin' For Kicks", "Slaughter of Innocence". The sheer energy of the band was captured on the tape and it turned out to be a perfect example of the type of technical thrash the lads are comfortable playing. After a lot of support from radio stations throughout Dublin, the demo began to sell very well and saw the band go on to no.3 in the Soundcellar/Capital Metal Charts.

It was now time to do a few live shows and in November '88 the band played their debut gig as support to Suicidal Tendancies in front of a 1000+ audience. The result was a staggering reaction from the audience and an impressive response from magazines such as the famous Metal Hammer who reviewed the gig. The band did a few more gigs and festivals before taking a break in January '89 to concentrate on new material.

The band came up with some new tracks such as "The End", "Streetwise" and "Persecution". It was at this point that Trev left in search of a mellower brand of music. The same week Mano (ex Chromatic Death) known to the band as a competent bassist, became the new addition to the band.

[The last paragraph about tour dates and the availability of the demo is not reproduced here.]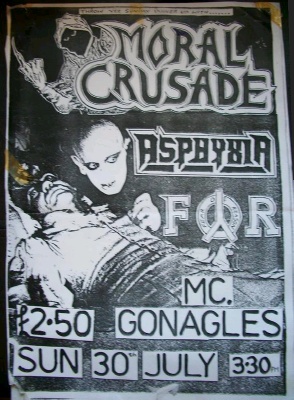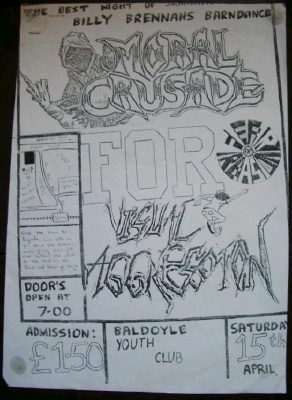 Discography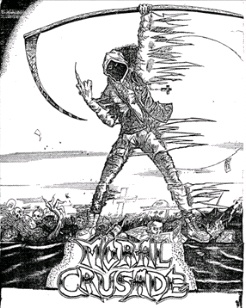 • Immoral Condition
K7 - demo - 1989



Intro
When The World Dies
Hate War
Killin' For Kicks
Slaughter Of Innocence
Notes:
Note the last two tracks were not recorded for the studio LP. This demo is included as bonus tracks on the Slaney Records CD reissue.



• An Act Of Violence
LP - CMFT Productions - CMFT5 - IRL - 1990 - 1000 copies
CD - Slaney Records / Mosh Tuneage - SLANEY 024 - IRL - 2013 - bonus tracks
bonus tracks are the Immoral Condition demo


side one:
An Act Of Violence
Streetwise
Hate War
Premeditated Murder
No Mercy

side two:
The End
Persecution
A Change In Two Directions
When The World Dies
Help!
We need your help to correct and/or complete this entry. If you can provide more information about this band, have scans, photos or any other memorabilia we can use, or spare copies of any releases, then please get in touch.
---

See Also: Chromatic Death, Killer Watt, Panic


---

A-Z Artist Index
Compilations
Record Labels
Media
Help Us!
Contact Us
Resources
Timeline
---