---


A-Z Artist Index
Compilations
Record Labels
Media
Help Us!
Contact Us
Resources
Timeline
---
From: Portstewart, N.IRL

Active: 1960s onwards
Style: Guitarist



Bio:

Henry McCullough's first band was The Skyrockets showband which in 1964 spawned Gene & The Gents with Henry in the lineup. Henry played on their 1966 single before joining The People who became Eire Apparent. See the latter's entry for more details. Following his exit from Eire Apparent, McCullough joined Sweeney's Men for a few months in the summer of 1968, contributing to the original Irish folk rock experiment.

After his short stint with Sweeney's Men, McCullough accepted an invitation to join Joe Cocker's backing band The Grease Band, formed in 1966. The lineup was then McCullough (guitar), Chris Stainton (organ/guitar), Alan Spenner (bass) and Bruce Rowland (drums). After a gruelling US tour and an appearance at Woodstock (included in the film), the Grease Band split from Cocker in 1970 and signed to Harvest Records. Guitarist Neil Hubbard replaced Stainton. This is the lineup that made the band's debut self-titled LP which is excellent and recommended. It's nominally blues rock but takes in many moods and is reminiscent of the early 70s work of Man and Help Yourself. It's also often compared to Dylan and The Band. The track "Mistake No Doubt" dates from McCullough's tenure with Sweeney's Men.

Stainton remained an associate member of the band, contributing at different times, and Mick Weaver (AKA Wynder K. Frog) augmented the line-up on occasion before joining fulltime. There were further recordings made during 1970-71. McCullough, Stainton and Spenner all featured heavily on Spooky Tooth's fourth LP "The Last Puff", released in 1970. John "Pugwash" Weathers replaced Rowlands in 1971 but the band split in December 1971 when McCullough joined Paul McCartney's Wings (In fact it's possible Henry left the Grease Band before this date, as he was reported as living in Portrane in north county Dublin circa 1971 rehearsing with Victor McCullough and Ditch Cassidy in Gypsy Rock, who played a few gigs in the Dublin area during 1971 but came to a halt "when Henry left to join Wings"). A compilation of unreleased Grease Band recordings appeared in 1975 titled Amazing Grease. While not as good as the debut, it's certainly worthy of attention and both albums are now available on a single CD.

McCullough was with Wings from December 1971 to August 1973, appearing on the Red Rose Speedway album (1973) and numerous singles (no writing credits as far as I know). The first of these singles was the controversial "Give Ireland Back To The Irish" which was banned by the BBC. There were more singles and touring during 1972 but a good five months of the year were spent on recording sessions for the The Red Rose Speedway album. This was was originally planned as a double and there are many unreleased recordings from this period. Other tracks originally planned for the double turned up as B-sides. Red Rose Speedway was released in April 1973. The band's most successful single to date was the "Live And Let Die" Bond theme released in June 1973, which had been recorded at the end of the Red Rose Speedway sessions the previous October. After a highly successful UK tour in support of Red Rose Speedway, McCullough (and drummer Denny Seiwell) left Wings in August 1973 before sessions for the "Band On The Run" LP. . McCullough's permanent replacement was Scottish guitarist Jimmy McCulloch (ex Thunderclap Newman and Stone The Crows and need I add no relation!). Henry went into session work for a number of years.

Henry released his solo debut LP on Dark Horse Records in 1975. Unfortunately it's a rather bland affair, pleasant but nothing special. Also of note is Marianne Faithfull's comeback LP "Faithless" (Nems 1978) on which she was backed by the Grease Band.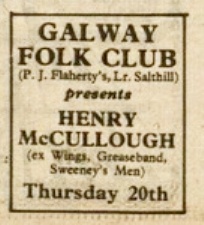 Solo gig at the Galway Folk Club in P.J.Slattery's pub
Salthill, Co.Galway, Thursday 20th September 1979.





McCullough toured Ireland for the last two weeks of August 1980 with an impressive backing band: Mitch Mitchell, Chris Stewart, Steve Simpson and Tim Hinkley. He later suffered a hand injury which kept him inactive for an extended period but he remerged in the late 1980s fronting his own bluesrock and and contines to perform to this day. He has achieved legendary status in Ireland, as is often described as the only Irish man to perform at the Woodstock Festival.





Solo Discography:

• Mind Your Own Business
LP - Dark Horse Records - DH 22005 - UK - 1975 - inner
LP - Dark Horse/A&M Records - SP 22005 - USA - 1975 - company inner





side one:
You'd Better Run
Sing Me A Song
I Can Drive A Car
Baby What You Do To Me
Country Irish Rose

side two:
Lord Knows
Down The Mine
Oil In My Lamp
Mind Your Own Business
I'm In Heaven [Hank Williams]
Notes: Produced by Henry McCullough and John Jansen for Samarrah Ray Productions.


• Can't Help Falling In Love / ?
7" - Line Records? - ??? - ??? - 1982? - PS


• All Shook Up EP
12" - Tara Records - TS 32 - IRL - 1982
12" - Line Records - 6.20133 - Germany - 1982

Gone With Another
All Shook Up
Can't Help Falling In Love


• Hell of a Record
LP - Line Records - LILP4.000725 - Germany - May 1984
Recorded at Eiffel Tower Studios in Tulsa, Oklahoma

side one:
Here We Go Again
Tears On Your Face
Can't Help Falling In Love
Shining Star
Whispering Love

side two:
Down In The Amusements
Foolish Hearts
Too Upset To Say Goodbye
Just Because
Cold Cold Heart (Hank Williams)
Couldn't Sleep For Thinking Of (Hank Williams)


• Get In The Hole (Live)
CD - label? - ??? - UK - 1989


• Blue Sunset
CD - label? - ??? - UK - 1998




Chronological Discography:

• Gene & The Gents - Puppet On A String / Sweet Little Sixteen
• Puppet On A String / Sweet Little Sixteen
7" - Emerald Records - MD 1024 - UK - 1966 - no PS


• see Eire Apparent discography


• see Sweeney's Men discography


• various artists - Jesus Christ Superstar
LP - Decca/MCA Records - ??? - UK - October 1970


• Joe Cocker - With A Little Help Fron My Friends
LP - Regal Zonophone - LRZ 1006 - UK - May.1969
Plays on 4 tracks


• Joe Cocker - Joe Cocker!
LP - Regal Zonophone - SLRZ 1011 - UK - 1970


• Joe Cocker - Cocker Happy
LP - Cube/Fly - HIFLY 3 - UK - 1970


• Joe Cocker - I Can't Stand A Little Rain
LP - Cube Records - HIFLY 18 - UK - 1974
Plays on 2 tracks


• Joe Cocker - Jamaica Say You Will
LP - Cube Records - HIFLY 20 - UK - 1975
Plays on 1 track


• Spooky Tooth - The Last Puff
LP - Island Records - ILPS 9117 - UK - July 1970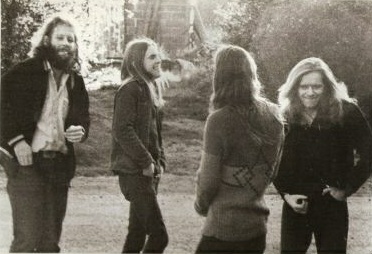 With the Grease Band in 1970 (far right)



Henry McCullough with the Grease Band :

• Grease Band - Laughed at the Judge / Jesse James
7" - Harvest Records - HAR 5852 - UK - 1972 - no PS
7" - Harvest Records - 1c-062-92506 - Germany - 1972 - PS
7" - Harvest Records - 2c-062-92506 - France - 1972 - PS
7" - Harvest Records - 3c-062-92506 - Italy - 1972 - PS


• Grease Band - Laughed at the Judge // All I Wanna Do / Jesse James
7" - Stateside Records - 8E 006 - 93 550 M - Portugal - 1972 - PS


• Grease Band - Let It Be Gone / Mistake No Doubt
7" - Harvest Records - 3c-062-93076 - Italy - 1972 - PS


• Grease Band - Mandolin Song / Willie and the Pig
7" - Harvest Records - 2c-062-93087 - France - 1972 - PS


• Grease Band - All I Wanna Do / Jessie James
7" - Shelter Records - 7310 - USA - 1971
12" - Shelter Records - SPRO-6318 - USA - 1971 - DJ promo only, no PS


• Grease Band - s/t
LP - Harvest Records - ??? - UK - 1971 - foc
LP - Shelter Records - SHE 8904 - US - 1971 - foc
LP - Line Records - ??? - Germany - ?? - some on white vinyl



side one:
My Baby Left Me [Crudup - Grease Band]
Mistake No Doubt [McCullough]
Let It Be Gone [McCullough]
Willie And The Pig [McCullough]
Laughed At The Judge [Grease Band - Spenner]

side two:
All I Wanna Do [McCullough]
To The Lord [Grease Band]
Jesse James [Grease Band]
Down Home Mama [Spenner]
The Visitor [McCullough]



• Grease Band - New Morning / Pont Ardawe Hop
7" - Goodear Records - EAR 602 - UK - 16 May 1975
7" - Goodear/Bellaphon Records - ??? - Germany - 1975 - PS
A-side by Bob Dylan.

• Grease Band - Amazing Grease
LP - Goodear Records - EAR 2902 - UK - 1975
LP - Charly Records - CR 30166 - UK - 1979
LP - Line Records - ??? - Germany - ?? - some on white vinyl
Unreleased archive recordings

side one:
New Morning [Dylan]
Reminiscing [Hubbard]
Pont Ardawe Hop [Spenner]
Dwoogie [McCullough]

side two:
Blue Monday [Domino-Bartholomew]
Mandolin Song [McCullough]
Hony Tonk Angels [Thomson]
Rock 'n' Roll Rodeo [McCullough]

• Grease Band - Grease Band & Amazing Grace
CD - Line Records - 601101 - Germany - 22 May 1995




tracklisting:
My Baby Left Me [Crudup - Grease Band]
Mistake No Doubt [McCullough]
Let It Be Gone [McCullough]
Willie And The Pig [McCullough]
Laughed At The Judge [Grease Band - Spenner]
All I Wanna Do [McCullough]
To The Lord [Grease Band]
Jesse James [Grease Band]
Down Home Mama [Spenner]
The Visitor [McCullough]
New Morning [Dylan]
Reminiscing [Hubbard]
Pont Ardawe Hop [Spenner]
Dwoogie [McCullough]
Blue Monday [Domino-Bartholomew]
Mandolin Song [McCullough]
Hony Tonk Angels [Thomson]
Rock 'n' Roll Rodeo [McCullough]



• Marianne Faithfull (with The Grease Band) - Faithless
LP - Nems - NEL 6012 - UK - September 1978
The Grease Band act as backing band on four tracks


Henry McCullough with Wings:

• Wings - Give Ireland Back to the Irish / (version)
7" - Apple - February 1972


Notes: Written in response to the events of Bloody Sunday and banned by the BBC. It was #1 in Ireland and Spain and charted in the United Kingdom (#16) despite the ban. European issues come in a picture sleeve.



• Wings - Mary Had a Little Lamb / Little Woman Love
7" - Apple - 25 May 1972
Henry McCullough plays mandolin


• Wings - Hi, Hi, Hi / C Moon
7" - Apple - 1 December 1972
On the B-side, the band swopped instruments, and Henry McCullough plays drums.


• Wings - My Love / The Mess (Live in Den Hague)
7" - Apple - 23 March 1973
A-side from Red Rose Speedway, non-LP B-side


• Wings - Red Rose Speedway
LP - Apple - 30 April 1973


side one:
Big Barn Bed
My Love
Get on the Right Thing [recorded late 1970]
One More Kiss
Little Lamb Dragonfly [recorded late 1970]

side two:
Single Pigeon
When the Night
Loup (1st Indian on the Moon)
Medley [Hold Me Tight/Lazy Dynamite/Hands of Love/Power Cut]

Notes: Originally planned as a double-LP, many of the planned tracks appear on singles from this period. The LP also includes two earlier recordings form 1970 on which Henry does not play.



• Wings - Live and Let Die / I Lie Around
7" - Apple - 1 June 1973
A-side from Bond soundtrack, recorded October 1972. B-side non-LP (Red Rose Speedway outtake)


• Wings - Helen Wheels / Country Dreamer
7" - Apple - 26 October 1973
Henry appears on the B-side only, a Red Rose Speedway outtake.


Guest Appearances:

• Rosetta Hightower - Hightower
LP - CBS Records - 64201 - UK - 1971
• Jackie Flavelle - Admission Free [appears on 2 tracks]
LP - York Records - FYK 408 - UK - 1972
• Tony Kelly - Bring Me Back
LP - Polydor Records - 2383 123 - UK - 1972 • Dave Carlsen - Pale Horse
LP - Spark Records - SRLP 110 - UK - 1973 • Donovan - Essence To Essence [appears on 2 tracks]
LP - Epic Records - S EPC 69050 - UK - 1973 • Andy Fairweather-Low - Spider Jiving [appears on 5 tracks]
LP - A&M Records - AMLH 68263 - UK - 1974 • Viola Wills - Soft Centers [appears on 1 track]
LP - Goodear Records - EARTH 5002 - UK - 1975
• Tony Kelly - I Never Got [no details]
LP - Goodear Records - 5009 - UK - 1975
• Bobby Harrison - Funkist [no details]
LP - Capitol Records - ST 11415 - USA - 1975
• Frankie Miller Band - The Rock
LP - Chrysalis Records - 1088 - UK - 1975
• Gerry Lockran - Rags To Gladrags [no details]
LP - Decca/Goodear Records - SKL-R 5257 - UK - 1976
• Roy Harper - Bullinamingvase
LP - Harvest Records - SHSP 4060 - UK - March 1977
• Roy Harper - One Of Those Days In England / Watfold Gap
7" - Harvest Records - HAR 5120 - UK - March 1977
• Roy Harper - Commercial Breaks
LP - Harvest Records - SHSP 4077 - UK - December 1977




See also: Eire Apparent, The People, Sweeney's Men




Help!: We need your help to complete this entry. If you can tell us more about this band then please do! We welcome any corrections, missing details, connections to other bands, where are they now, etc. We also need photos, scans, copies of releases or live or demo recordings, and any other memorabilia gathering dust in the attic. If you can help, then please get in touch.

thanks to TP McLoughlin



---


A-Z Artist Index Compilations Record Labels Media
Help Us! Contact Us Resources Timeline

---