---


A-Z Artist Index
Compilations
Record Labels
Media
Help Us!
Contact Us
Resources
Timeline
---
From: Belfast

Active: 60s

Style: R&B

Lineup:
Sam Mahood - vocals
Billy McCoy - guitar
Mervyn Crawford - guitar
Harry Curry - bass
Ray Irwin - drums


Just Five L-R: Billy McCoy, Sam Mahood, Roy Irwin, Harry Curry, Tiger Taylor.

Bio:

"Just Five were a powerhouse R & B act and one of Belfast's hottest R & B acts. The band was founded by pork butcher Sam Mahood (born in 1946, in Banbridge on the River Bann, Co Down, Northern Ireland), who had long wild red hair, staring eyes, and a voice steeped in gospel, who lived in University Street with John Cox, brother of Mick Cox later of Eire Apparent. A promising guitar player, John Cox nearly joined The Just Five. The band included Frank Connolly (vocals), Billy McCoy (guitar) and Mervyn Crawford (guitar). Just Five also played a Friday night dance at the Annadale Boat Club and played the Maritime Hotel. Their repertoire featured blues classics and the latest Rolling Stones hits, and as a tribute to Them they regularly included a version of Baby Please Don't Go. Among their rivals were up-and-coming group The Few, a quintet of hip schoolboys."--Eddie Kelly.

Tiger Taylor replaced Mervyn Crawford at some point. Sam Mahood later joined the Soul Foundation. His replacement was Frank Connolly from Belfast -- note it is possible Connolly replaced Mahood in the Soul Foundation rather than Just Five. If anyone knows the exact details, please get in touch.

Mahood shared accomodation with John Cox, who almost joined Just Five and whose brother Mick Cox was in the Alleykatz and later Eire Apparent.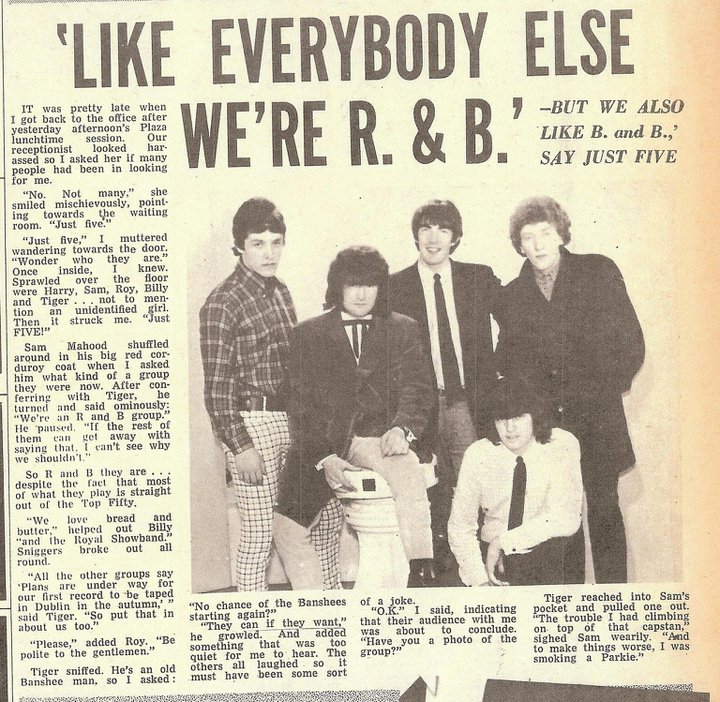 Newspaper article featuring the Tiger Taylor lineup.


Discography:

• v/a - Ireland's Greatest Sounds: Five Top Groups from Belfast's Maritime Club
See Compilations section for full track listing.
LP - Ember Records - FA 2034 - UK - February 1966



tracks: Dont That Just Beat Them All / I Will Have You


• v/a - Belfast Beat Maritime Blues
See Compilations section for full track listing.
CD - Big Beat Records - CDWIKD 152 - UK - 1997
tracks: Dont That Just Beat Them All / I Will Have You





See also:



Help!: We need your help to complete this entry. If you can tell us more about this band then please do! We welcome any corrections, missing details, connections to other bands, where are they now, etc. We also need photos, scans, copies of releases or live or demo recordings, and any other memorabilia gathering dust in the attic. If you can help, then please get in touch.



---

A-Z Artist Index
Compilations
Record Labels
Media
Help Us!
Contact Us
Resources
Timeline
---