---


A-Z Artist Index
Compilations
Record Labels
Media
Help Us!
Contact Us
Resources
Timeline
---
From: Arklow

Active: 1968-70; 1972-73

Style:

Lineup 1968-70:
Michael Kennedy (RIP) - vocals, guitar
John Kenny - guitar, vocals
Tom Grogan - bass


Homer's Knods in 1969, LR: Michael Kennedy, Tom Grogan (front), John Kenny (back).
[photo courtesy Tom Grogan]

Lineup 1972-73:
John Kenny - vocals, guitar
Freddie Cutland - lead guitar
Matt Jenkinson - guitar, vocals
Tom Grogan - bass
Bio:

I know very little about this band. They were led by Michael Kennedy who was from Arklow. Their manager was Liam Lynch (RIP), former singer of Dublin folk act The Dragoons. Michael Kennedy's girlfriend was Maxi (of Maxi, Dick & Twink). John Kenny's name was recorded incorrectly somewhere as Kohn Kenny, and this misprint has been repeated over the years. Another misprint/error is Declan Sinnott, who was never a member of the band.

Michael Kennedy died tragically of cancer in 1970. John Kenny and Tom Grogan then linked up with Eddie Mack and Freddie Cutland as The Family, also based in Arklow. This lasted for about 18 months. They reformed Homer's Knods in 1972 with Matt Jenkinson as guitarist/second singer. Freddie Cutland joined as lead guitarist shortly thereafter. This lineup lasted for about 18 months before splitting up for good.

There are two singles. The first single was released in 1969. It's good sunshine pop psych and is now a minor collectable. The second single came about as a result of a prize won in the Kilkenny Beer Festival in 1972 – a recording session and single on Pye Records. This featured the second lineup backing manager Liam Lynch and was not representative of the band's sound. As the credit on the label suggests, the Liam Lynch with Homers Knods single is essentially a Liam Lynch solo release, revisiting his days with The Dragoons. It's run-of-the-mill traditional folk and is pretty forgettable.

"Mr.Rainbow" is comped on Ripples Vol.7: Rainbows (Sequel Records - NEMCD431 - UK - 2000).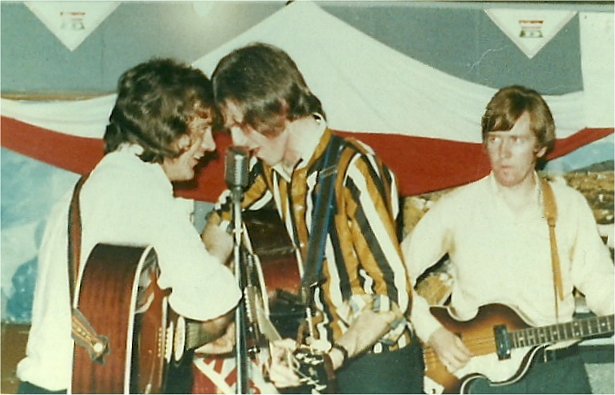 Homer's Knods onstage, LR: Michael Kennedy, John Kenny, Tom Grogan
[photo courtesy Mark Kenny]


Discography:

• All She Said Was Goodbye / Mr.Rainbow
7" - Pye - 7N 17731 - IRL/UK - April 1969
A-side by A.R.Dunlop; B-side by K.Hopkins, K.Burgess, M.Wirtz


• Liam Lynch with Homers Knods - Freedom / West's Awake
7" - Pye - 7N 60020 - IRL - 1972
Recorded at Eamon Andrews Studios.





See also:



Help!: We need your help to complete this entry. If you can tell us more about this band then please do! We welcome any corrections, missing details, connections to other bands, where are they now, etc. We also need photos, scans, copies of releases or live or demo recordings, and any other memorabilia gathering dust in the attic. If you can help, then please get in touch.


thanks to Tom Grogan and Mark Kenny
---

A-Z Artist Index
Compilations
Record Labels
Media
Help Us!
Contact Us
Resources
Timeline
---