---


A-Z Artist Index
Compilations
Record Labels
Media
Help Us!
Contact Us
Resources
Timeline
---
From: Belfast, N.IRL

Active: 60s/70s
Style: Rock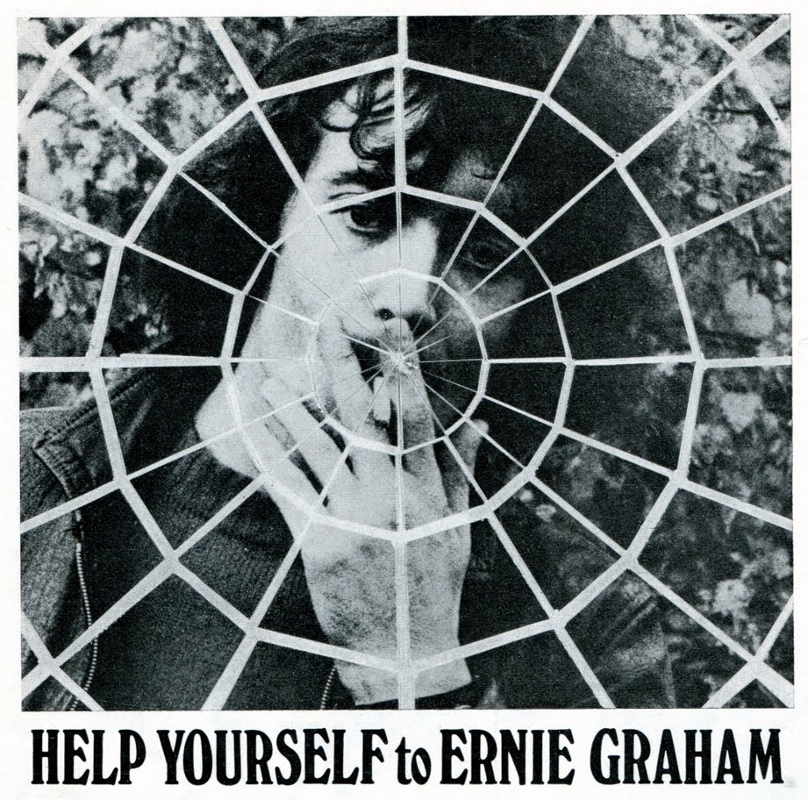 Bio:

Ernie Graham (vocals, guitar) began his career with beat group Tony & The Telstars before forming The People in 1964 with George O'Hara (guitar), Eric Wrixon (keyboards), replaced by Henry McCullough in 1966 Mike Niblett (bass) and Davy Lutton (drums). The People added Henry McCullough (guitar) in 1966 became Eire Apparent in 1967. After various lineup changes and an excellent psychedelic LP "Sun Rise" in 1969, Eire Apparent called it a day in 1970.

Ernie Graham signed as a solo artist to Liberty Records and released a superb solo LP backed by members of Brinsley Schwartz and Help Yourself in 1971. All three bands were signed to the same management and lived for a time in the same Northwood commune. The did a package tour together as The Down Home Rhythm Kings in 1971. Despite positive reviews, the LP didn't sell particularly well and Ernie accepted an invitation to join Help Yourself, appearing at the 1971 Glastonbury Festival and playing on the "Strange Affair" album, but he soon moved on to form Clancy.

Graham formed Clancy in 1972 with Jonathan "Jojo" Glemser (also ex Help Yourself) and Colin Bass (ex Velvet Opera). Martin Belmont (Ducks Deluxe, The Rumour) and Twink (Pink Fairies) may also have been involved. They were signed by Island Records. This lineup has been variously described as pub-rock and folk-rock, but it didn't record and Island released them from their deal after some differences with producer Muff Winwood. They signed to Warner Bros in 1974, by which time the band was Ernie Graham (lead vocals, guitar), Dave Vasco (lead guitar), Dave Skinner (keyboards & synth), Gasper Lawal (African percussion), Colin Bass (bass) and Barry Ford (drums). During their five year lifetime (1972-76) they recorded two albums for Warner Bros. The debut "Seriously Speaking" (1975) they play a funky rock music formed by a mixture of jazzy piano and funky grooves with varied percussion. The second album "Every Day" (1976) is more varied and less successful. The band split in 1976.

After Clancy split, Stiff label boss Dave Robinson who'd managed Ernie when he was with The People in the 60s and had produced his solo LP in 1971, invited Ernie to record a one-off solo single for Stiff. The result was a cover of Thin Lizzy's "Romeo and the Lonely Girl". This was to be Graham's last release. He quit the music business in the 1980s and died in April 2001.





Discography: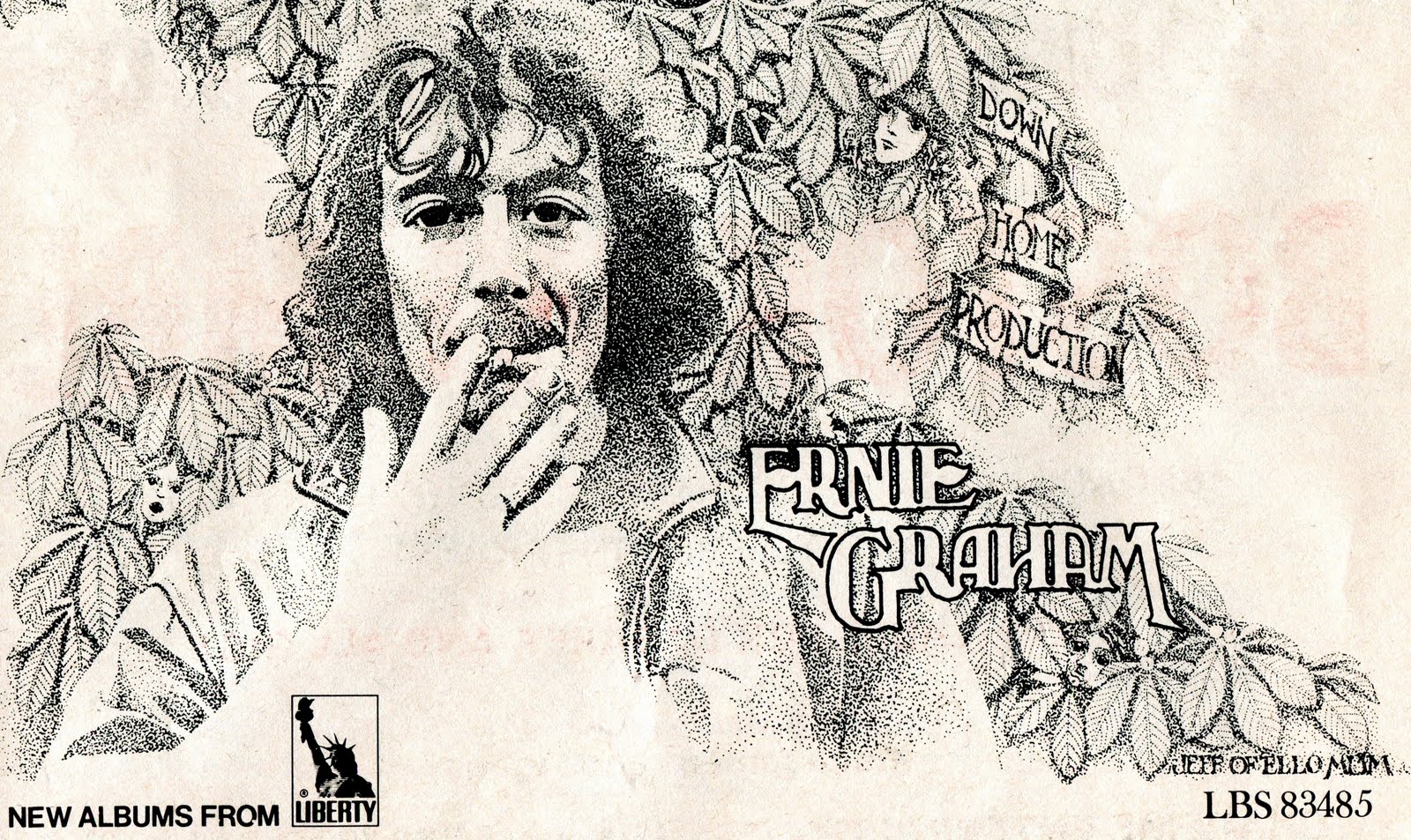 Music press half page advert for Ernie Graham's 1971 debut LP


• s/t
LP - Liberty Records - LBS 83485 - UK - 1971 - textured cover
CD - Hux Records - HUX 32 - UK - 2002 - 2 bonus tracks
CD - Vinyl Japan - ASKCD 136 - Japan - 2002 - 2 bonus tracks
Produced by Dave Robinson.







side one:
Sebastian
So Lonely
Sea Fever
The Girl That Turned The Lever

side two:
For A Little While
Blues To Snowy
Don't Want Me Round You
Belfast

CD bonus tracks (from 1978 Stiff 7"):
Romeo And The Lonely Girl
Only Time Will Tell
Notes: Credits on the album include Bob Andrews (organ, accordion, guitar, piano, harmonies), Ian Gomm (guitar, harmonies), Nick Lowe (bass, harmonies), Billy Rankin (drums), Brinsley Schwarz (guitar), Malcolm Morley (piano, guitar), Ken Whaley (bass) and others. "Don't Want Me Round You" was included on United Artists' "All Good Clean Fun" double-LP sampler set (UDX 201/2) released in 1971.
The original 1971 PR sheet (from Tony Brainsby Publicity) reads:

"Ernie graham is an Irish musician. If his name means anything at all to you it's probably because he was once the vocalist/guitarist with a nearly successful band called Eire Apparent. Now Eire Apparent, although a rather untogether and confused band, contained a lot of talent, talent that was recognised by Jimi Hendrix and his manager Mike Jefferies, with whom they toured for over a year - unfortunately the public seemed to miss out on them. By the time their album was released the band had recognised the confusion and split - henry McCullough went and joined Joe Cocker, and our Ernie went away to write his songs.
"The result is this album, Ernie's first, which was recorded with the help of Brinsley Schwartz and Help Yourself.
"The music, when you listen to it, will speak for itself. It's a restrained, gentle account of what Ernie is all about. There's a lot of Ireland in it, a lot of chicks, and a lot of dope. Ernie stopped being a pop star when Eire Apparent failed, now he's a guy sho sings his songs.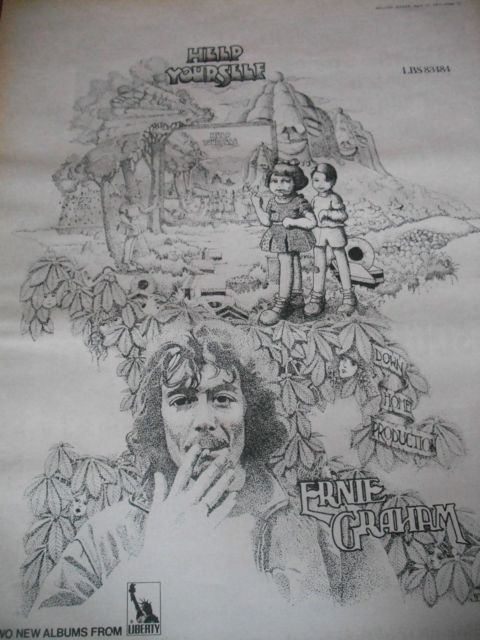 Music press full page advert



• Help Yourself - Strange Affair
LP - United Artists - UAS 29287 - UK - 1972
LP - United Artists - UAS 5591 - USA - 1972
Reissued on CD in 1999


• Romeo (And the Lonely Girl) / Only Time Will Tell
7" - Stiff Records - OFF 2 - UK - 1978 - PS
7" - Stiff Records - OFF 2 COU-B - Belgium - 1978 - stamped PS, orange or yellow vinyl
7" - Stiff Records - 6.12272 AC - Germany - 1978 - PS
7" - Stiff Records - SRS 510.074 - Holland - 1978 - PS
7" - Stiff Records - STIF 100 [HKAS 32180] - Italy - 1978 - diff PS
A-side by Phil Lynott, B-side by Graham.
Produced by Larry Wallis


Clancy Discography:

• Clancy - Back on Love / Steal Away
7" - Warner - ??? - UK - 1974 - no PS
Both tracks from debut LP


• Clancy - Seriously Speaking
LP - Warner Bros - K 56103 - UK - 1975
(P) 1974, released in 1975


Ernie Graham third right

side one:
Back on Love
Lose Me
Body to Body
Steal Away [E.Graham]
Sign of the Times

side two:
Southern Boogie
Money
Long Time Coming [E.Graham]
Move On
Eat Gook


• Clancy - Baby Don't You Do It / Everything's Gonna Be Fine
7" - Warner Bros - ??? - UK - 1975 - no PS
Non-LP B-side


• Clancy - Good Judgement / Leavin' Town
7" - Warner Bros - ??? - UK - 1975 - no PS Non-LP B-side


• Clancy - Every Day
LP - Warner Bros - K 56206 - UK - 1976



side one:
Working Together
Timetaker
Seconds Out
You Have Made My Life So Sweet

side two:
Jeka Jose
You Don't Understand
Good Judgement
Jealousy





See also: Eire Apparent, The People



Help!: We need your help to complete this entry. If you can tell us more about this band then please do! We welcome any corrections, missing details, connections to other bands, where are they now, etc. We also need photos, scans, copies of releases or live or demo recordings, and any other memorabilia gathering dust in the attic. If you can help, then please get in touch.



---

A-Z Artist Index
Compilations
Record Labels
Media
Help Us!
Contact Us
Resources
Timeline
---