---


A-Z Artist Index
Compilations
Record Labels
Media
Help Us!
Contact Us
Resources
Timeline
---
From: Limerick

Active: 1976-81

Style: Rock/Glam Rock

Lineup:
Richard Hannoway AKA Richard O'Sullivan - guitar/lead vocals
John Kenny AKA Jon Kenny - guitar/bass/lead vocals
Kevin Sheehy - guitar
Eugene O'Sullivan - keyboards
Mick 'Tús' O'Sullivan - bass
Paddy O'Sullivan AKA Ricky O'Sullivan - drums


Gimik in 1976. LR: Ricky (19), Mick (17) & Eugene (16) O'Sullivan
John Kenny (18), Richard Hannoway (18) and Kevin Sheehy (17).
Bio:

Late 70s rock band from Limerick whose lineup included future comedian Jon Kenny (from Hospital, Co.Limerick), who joined the band on rhythm guitar (or possibly on bass guitar) after leaving school at the age 16. Apart from Kevin Sheehy, the other four members of the band were all brothers. Richard or Dick O'Sullivan AKA Richard Hannoway shared lead vocals with Jon Kenny. In some sources he's listed as Mike O'Sullivan, but that would mean two brothers named Mike and Mick which seems very unlikely. There was another O'Sullivan, Derek, in a later lineup.

Gimik supported The Bay City Rollers on their Irish tour in 1976. Richard O'Sullivan left the band after this tour. There were further lineup changes in 1977: Ed Keating replaced Mick O'Sullivan on bass, and Tony Fitzpatrick replaced Paddy O'Sullivan on drums. This new lineup supported Mud on their Irish tour in late 1977.

I've been told Gimik played the second Macroom Mountain Dew Festival on 26 June 1977. Can anyone confirm?

1977 Irish Tour Poster supporting Mud
Mud and Gimik both appeared on RTE TV's SBB Ina Shuí in November. That same month Gimik appeared on RTE's Hullabaloo, presented by Shay Healy and Marion Richardson. There are undoubtedly many more RTE appearances. After the Irish tour, Gimik embarked on their first tour of England, supporting Mud on at least two occasions there, before returning to Ireland just before Christmas 1977.

Gimik were a very interesting band who straddled the Glam Rock/Punk Rock divide. Their roots were in Glam, and they supported touring acts like the Bay City Rollers, Mud and Smokie. but they were aware of the advent of Punk. Some consider them as forerunners of Punk Rock. The band were aware of the tension between their music and the arrival of punk: John Kenny has described in interview playing the bands music to a crowd hungry for punk rock.
"...there were times when we were in places we shouldn't have been in at all! Jesus, it was like the scene in The Blues Brothers where they're performing behind chicken wire in that country and western bar. I remember situations years ago where you'd sit down and look out at the audience and say, "What the fuck are we doing here? There's 400 punks at the gig and here we are doing glam rock!" We were doing Slade covers and the boys wanted the Sex Pistols! But it was actually a great time to be playing, because a lot of good things came out of the punk movement"--John Kenny, interviewed in Hot Press
Their singles released between 1977 and 1980 illustrate this well. They show steady progress and are superior Glam Rock with Punk leanings. All are now very collectable. "Stood Up" is probably their best recording but "Changes", "Schools Out" and "I Don't Like It" (probably the most out and out Hard Rock/Metal of the four singles) are all very good Glam/Rock/proto Hard Rock tracks. The debut is relatively weak by comparison, so don't pay too much for it.

Gimik at the TV Club in Dublin, July 1977.
LR: Eugene O'Sullivan (keyboards), Pidgeon Walsh (roadie working the lights),
Tony Fitzpatrick (drums), Ed Keating (bass), Jon Kenny (vocals).
Taken during Ed's first ever live lead vocal.
[photo courtesy Ed Keating]

Ed Keating left in June 1978 and joined the Magic Band. He was replaced by Oliver Reynolds. The band then appeared on a Christmas album recorded by the Young Generation Choir from Waterford. They played on a number of tracks, both in collaboration with the choir and in their own right. This album was recorded somewhere between June 1978 and June 1979. The photo of Gimik on the back cover shows Kevin Sheehy had left the band - quite a surprise given his role as songwriter. One track from this Christmas LP "Hey Mr.Christmas", featuring Oliver Reynolds on lead vocal, was released as a single before Christmas 1980.

When Ed Keating rejoined the band in June 1979 the lineup was Jon Kenny (guitar/vocals), Derek O'Sullivan (lead), Ed Keating (bass) and Frank Dolan (drums). This was reputedly the best lineup of the band. Their live set was peppered with covers of Thin Lizzy, AC/DC, Cheap Trick and the like and they were an excellent live band. This lineup also has the distinction of appearing on East German TV in November 1979 as part of the GDR's 30th anniversary celebration. Foreign bands were invited to perform on a monthly TV show called "Rund" (one foreign band per show) and on 3 November 1979 Gimik made their appearance at the Halle-an-der Salle, performing "School's Out" and "Back On The Road" [Rund episode 74, 1979-11-03]. These recordings survive in the GFR TV/Rund archive.

Supporting Smokie at The Savoy, Limerick, December 1978.

Gimik continued playing Glam/Hard Rock into the early 1980s before eventually splitting up. Don Woods (ex Magic Band) played bass during this late period. Jon Kenny became an actor and eventually developed a cabaret revue show, but is best known now for D'Unbelievables, the comedy duo he formed with Pat Shortt. He's also released comedy records on which ex members of Gimik backed him on occasion. Derek O'Sullivan and Frank Dolan were later in Hi Energy.

Gimik made many more recordings during their lifetime. They recorded many demos for TV appearances, especially in Ireland, and for other possible singles. Someone should encourage Jon Kenny & co. to compile these recordings onto CD.


Discography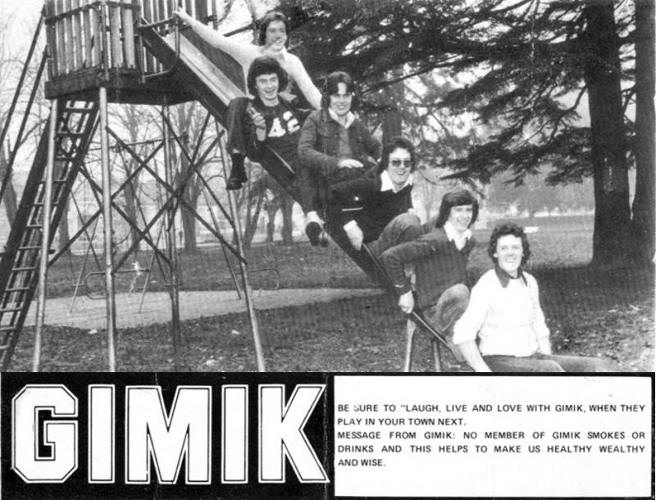 Laugh, Live and Love advert, 1977.


• Laugh, Live and Love / You Know My Name
7" - Release Records - RL 861 - October 1977 - no PS
A-side is a Mud cover; B-side is by band member Kevin Sheehy
Recorded at Lombard Sound Studios, produced by Dick Keating.


• Dancehall Queen / No More Magic
7" - MIK Records - MR1 - IRL - 16 June 1978 - no PS
A-side is by D.Valentine; B-side by Kevin Sheehy
Recorded at Abbey Road studios by the Ed Keating/Tony Fitzpatrick lineup. Arranged and produced by Ron Richards.
A vast improvement on the debut.
Pressed in the UK. There is also a rarer Irish pressing with dark green text on a lime green label background with a slightly altered layout.


Notes: "Dancehall Queen" was demoed by David Valentine in REL Studios in Edinburgh in the mid-70s. Valentine's then manager was David Knights (original bassist with Procul Harum, appearing on their first 3 LPs) who somehow managed to get the song covered by Gimik. Valentine was later in Dillinger and R.A.F. who released material on A&M Records but he never released a version of this song himself. In fact, Gimik's is the only released recording of this song.



• School's Out Forever / Jaqui
7" - Gimik Records - MIK 002, but all copies labelled MIK 003 - IRL - March 1979 - no PS
Mistakenly labelled "MIK 003" on the label.
A-side is a mistitled Alice Cooper cover, the actual title is of course "School's Out"
The B-side is by Kevin Sheehy
Produced by Pat Little
Another strong A-side.


• Stood Up / Changes
7" - Gimik Records - MIK 003 - September 1979 - 500 copies pressed, some with PS
Both sides by Gimik.
An excellent single, especially the A-side.


• Young Generation Choir - Christmas Generation
LP - Generation Music Waterford - YG 001 - 1979



side one:
YGC - Happy Xmas Day
YGC & Gimik - Hey Mr.Xmas
YGC - When A Child Is Born
Gimik - Jacqui (Reynolds/Sheehy)
YGC - Don't Worry

side two:
Gimik - Lonely this Christmas
YGC - Do You Hear What I Hear
YGC - Neighbour Next Door
Gimik - Allright With Me
YGC - Christmastime
YGC - Shalom
Sleeve Notes:
Y.G. - A young group of Waterford children brought together in 1971 by Fr.Billy Meehan, who met each night in his house in Waterford. From this there emerged Waterford's Folk Mass, at which Y.G. always sang. They have made numerous appearances on RTE Television and Radio. Ages ranges from 11 to 18.
Gimik - A young Pop/Rock group from Hospital in Co.Limerick, whose average age is 20. Already they have a single to their credit and Jacqui on this Album is one of their originals.

Notes:
Apart from Gimik, this album features other musicians who presumably appear on one or more of the YGC tracks: Brendan Murray (drums), Garbiel McQuillan (rhythm guitar), Eugene Smith (keyboards, bass) and Basil Hendricks (lead guitar, steel guitar, bass, keyboards). The album was arranged and produced by Basil Hendricks. Recorded during Ed Keating's absence from the band between June 1978 and June 1979.



• Young Generation Choir - Hey Mr.Christmas / Christmastime
7" - Generation Music - ??? - December 1979 - PS
Both tracks taken from the 1979 LP, where the A-side is credited as "Hey Mr.Xmas".
Oliver Reynolds sings lead vocal and Gimik back the choir on the A-side.


• I Don't Like It / Back On The Road
7" - Gimik Records - MIK 004 - June 1980 - folded PS
Another excellent single housed in a fine sleeve.



Jon Kenny Solo Discography

• Jon Kenny - Spancil Hill / Mirror, Mirror
7" - Bus Records - BUS 10 - 1984 - PS


note Gerry Earley stamp on back cover.


• Jon Kenny - Have A Nice Day / Donna
7" - Bus Records - BUS 16 - 1985 - PS?


• Jon Kenny - Emigrate On 45
7" - Bus Records - BUS 32 - 1986 - PS?


• Jon Kenny and the Cattledealers Lament - Big Rock Candy Mountain / Sit Down For The Raffle
7" - Bus Records - BUS 521 - 1990? - PS



Help!


We need your help to correct and/or complete this entry. If you can provide more information about this band, have scans, photos or any other memorabilia we can use, or spare copies of any releases, then please get in touch.



---

See Also:


---

A-Z Artist Index
Compilations
Record Labels
Media
Help Us!
Contact Us
Resources
Timeline
---