---


A-Z Artist Index
Compilations
Record Labels
Media
Help Us!
Contact Us
Resources
Timeline
---
From: Dublin

Active: 197? - July 1979

Style:

Lineup 1978:
Roy Siggins AKA Fit Kilkenny - vocals
George Sutton – lead Guitar
Martin McEvoy - lead guitar
Garrett Brown - bass
Bren Farren - drums

Fit Kilkenny & The Remoulds in 1978, LR: Garrett Brown, George Sutton, Roy Siggins, Bren Farren, and Martin McEvoy.
Bio:

One of the original 1977-78 era bands, and a forerunner in some respects to the Rhythm Kings. Toured Ireland in August 1978 on the Burning Rubber Mini tour. Thursday night residency at the Magnet in Dublin. Played the Dandelion Market just once, in the early days, on Sunday 13 May 1979. There were also plans to record a single but this never came to pass. James Blennerhassett played bass with the band at some point. He was later in the Kim Newport Band and the Hennigan's Blooze Band before joining the Conquerors in the 1990s.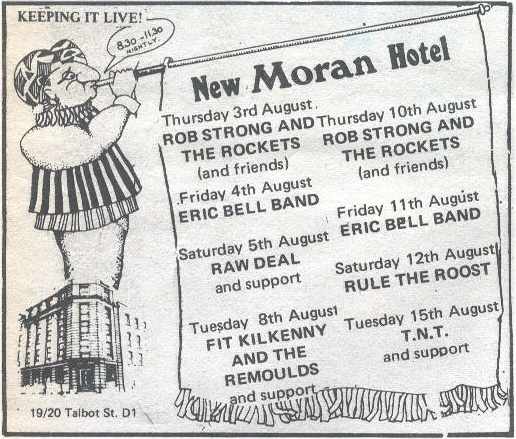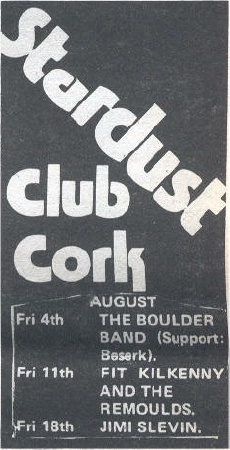 Appearing at Moran's Hotel, Dublin & the Cork Stardust, August 1978.

Fit Kilkenny & The Remoulds split sometime in July 1979.




Then And Now Reunion Poster
Fit Kilkenny & The Remoulds band reformed in 2006 for a re-union gig in Dubai. They subsequently performed in Eamon Dorans in Temple Bar in Dublin and recorded a live gig in Kiely's in Mount Merrion in September 2007.



Tour Advert 1978


UCG March 1979



Discography

• various artists - Sunflower Nights
2xCD - Hospice Foundation - HFCD001 - 2 May 2008
See Compilations section for full track listing.



tracks: Let's Hear You Sing (Siggins/McEvoy)
Help!
We need your help to correct and/or complete this entry. If you can provide more information about this band, have scans, photos or any other memorabilia we can use, or spare copies of any releases, then please get in touch.
---

See Also:


---

A-Z Artist Index
Compilations
Record Labels
Media
Help Us!
Contact Us
Resources
Timeline
---