---


A-Z Artist Index
Compilations
Record Labels
Media
Help Us!
Contact Us
Resources
Timeline
---
From: Dublin

Active:

Style:

Lineup:

Bio:

Daniel Figgis (AKA Binttii AKA Haa Lacka Binttii) is a musician from Dublin. His first band was Normal Service Will Be Resumed As Soon As Possible, reputedly a punk-meets-Rick Wakeman proposition, a school band active during 1978-79. He then joined the Virgin Prunes and appeared on their first two singles, released in 1981.

After being kicked out of the Prunes he formed Princess Tinymeat who were active for several years in the mid-80s (1984-87) and who gained a degree of notoriety equalling that of his previous band. After Princess Tinymeat split, Binttii reverted to his real name. In a Hot Press feature in February 1989 he mentions following training and workshops at the Contemporary Music Centre (with Roger Doyle) and new pieces he'd composed with titles like "Hungry For Love", "Untying the Love Knot" and "Track No.3". In 1994 he released the acclaimed "Skipper" album.

Binttii also did production work for bands like The Threat and The Gorehounds.

For more details, check out the official website (see links below).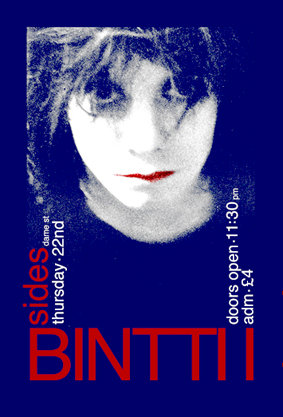 Flyer for undated show at Sides, Dame St, Dublin


Discography

• Skipper
CD - Rough Trade - R3122 - 1994 - jewel case
CD - Black Burst - BLACKCD005X - 2003 - digipak


• various artists - When It's Ajar - The Music of Daniel Figgis?
2xCD - Spitroast Records - ??? - 2003
Recompositions based exclusively on the recorded works of Daniel Figgis.


• various artists - A Constant Source of Interruption
LP - Rough Trade - ROUGH LCD6004 - UK - 1990

tracks: River (credited as Daniel Binttii)


• various artists - Miaow! ...Cats What I Call Music
CD - Big Cat Records - ABB 118CD - UK - June 1996
Free with The Wire magazine #??? (June 1996)

tracks:
Extract From Lanthon
Lucky's Bad Day


• various artists - Miniatures 2
CD - Cherry Red Records - CDBRED165 - UK - 2000


• various artists - Splashed With Many A Speck
2xCD - Dewdrops - ??? - 2000

tracks: Timothy Cream's Crown Of Wines


• various artists - The Wire Tapper 4
CD - The Wire #186 - UK - 2000
Free with The Wire magazine issue #186 (2000)


• various artists - The Wire Tapper 7
CD - The Wire #207 - UK - May 2001
Free with The Wire magazine #207 (May 2001)

tracks:
Drool's Holdings
Mudder
The Light Again


• various artists - Synthetic All Sorts
CD - Front End Synthetics - FSYNTH002CD - IRL - 2001


Help!


We need your help to correct and/or complete this entry. If you can provide more information about this band, have scans, photos or any other memorabilia we can use, or spare copies of any releases, then please get in touch.



---

See Also: Princess Tinymeat, Virgin Prunes

External Links: http://www.danielfiggis.com


---

A-Z Artist Index
Compilations
Record Labels
Media
Help Us!
Contact Us
Resources
Timeline
---