---


A-Z Artist Index
Compilations
Record Labels
Media
Help Us!
Contact Us
Resources
Timeline
---
From: Cork

Active: 1977-78

Style: Rock / Folkrock

Lineup:
Freddie White - vocals & guitar
Pete Cummins - guitar
John Ryan - keyboards
TJM Tutty - bass
Matt Kellegan - drums


The Fake in 1977, LR: Freddie White, John Ryan, Matt Kellegan, TJM Tutty, Pete Cummins
Bio:

Folk rock band fronted by Freddie White. John Ryan and Pete Cummins both ex Granny's Intentions. More details to follow.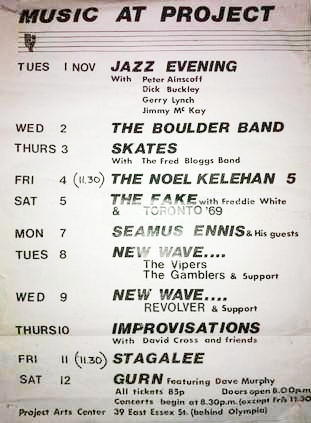 At the Project Arts, Nov 1977, supported by Toronto '69.
Note 'with Freddie White'.


Discography

• Green Light / Down On Main
7" - EMI Records - IEMI 5083- IRL - February 1978 - no PS
A-side by John Ryan. B-side by Tony Coughlan.
Produced by Andrew Boland & Donal Lunny.



Help!


We need your help to correct and/or complete this entry. If you can provide more information about this band, have scans, photos or any other memorabilia we can use, or spare copies of any releases, then please get in touch.



---

See Also:


---

A-Z Artist Index
Compilations
Record Labels
Media
Help Us!
Contact Us
Resources
Timeline
---