---


A-Z Artist Index
Compilations
Record Labels
Media
Help Us!
Contact Us
Resources
Timeline
---
From: London/Belfast

Active: 1985-

Style: Alternative

Lineup:
Brendan Staunton - vocals
Sean Quinn - guitar/keyboards
Des Staunton - bass
Kevin Mann - drums


outtake from unused promo photo shoot
Bio:

Dubh Chapter formed in the UK in the mid-1980s. 'Dubh' is the Gaelic word for 'black'. Sean Quinn was from Belfast (ex One Deaf Ear); Brendan & Dez Staunton were from Bradford, West Yorks, born to parents from the west of Ireland; both had previously been in Tea House Camp; Kevin Mann was from London but again with an Irish background. The new band was briefly known as The Alchemists. Their album was recorded in 1989-90 though many of the songs were much older, some almost 10 years old. It's a fantastic record of cool melodic jamming indie rock, perhaps with a touch of shoegaze but with a lighter approach and more nimble drumming (and excellent production by Steve Hillage). It is highly recommended. It sold well in Ireland but didn't do much anywhere else.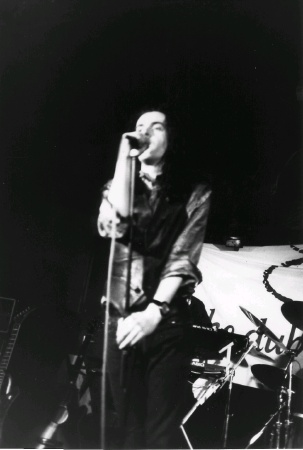 Live in London, 1990


<

The following was provided by JJ:
Formed 1987 in London after the demise of Goth band Teahouse Camp (Brendan & Des Staunton) and Belfast electronic band One Deaf Ear (Sean Quinn). The first line up with Martin Hutt on drums played a couple of gigs but things didn't not really start to happen until Hutt was replaced with Kevin Mann in January 1988 and the band subsequently signing to Big Life Management.

The debut single "Happy Is The Bride" (Cat no. BLR 13) was due for release in summer 1988 except that BLR 12 was none other than "The Only Way Is Up" by Yazz (with cover designed by Quinn). It was all hands on deck at Big Life to get the Yazz album out in the wake of the hit single which left Dubh Chapter feeling a little neglected so they jumped ship to Wildlife Management. They left Big Life on good terms. A major label bidding war ensued at the end of '88 between Chrysalis, RCA and EG and the band signed to EG in June '89.

The debut album "Silence, Cunning & Exile" was recorded at Jacobs in Surrey during Winter '89 – Spring '90. The re-recorded debut single "Happy Is The Bride" was released in June '90 and scraped it's way into the UK Top 100. NME gave "Happy..." a favourable review and it was Hot Press Single Of The Fortnight but it had been obvious during the recording sessions that the musical landscape was changing with the rise of dance music and fellow indie rock bands like The Beloved, Jesus Jones, EMF and even Blur all jumping on the bandwagon. Dubh Chapter stuck out like a sore thumb. With no drum machine and no wah-wah pedals nobody seemed to want to know.

A continuing war of attrition between EG Records and the parent label Virgin (something to do with Bryan Ferry) meant more problems for Dubh Chapter as the band were used as a whipping boy. In this climate the debut album "Silence, Cunning & Exile" was released in November (a disastrous month for any debut album to be released) 1990 while the band was off the road, recording the demos for the follow-up [with Pete Briquette of the Boomtown Rats].

The rest is the usual story; a couple of awful UK tours and a disastrous change of management meant the band started 1991 totally demoralised and paranoid and it all fell apart just before they were due to go on a European tour with Iggy Pop and then fly off to LA to record the new album.

Just another in a long line of Irish bands destroyed by Virgin Records . . . --JJ.
Arista in New York was very interested in releasing the second album but this wasn't pursed by E.G. for whatever reason. Whether this would have prevented the break up is a moot point. This material has surfaced on bootleg (If anyone can help me locate a copy, please get in touch). There is a (rough) live performance video in circulation.





Discography

• Happy Is The Bride / Who Decides?
7" - EG Records - EGO 52 - UK - 11 June 1990 - PS
• Happy Is The Bride (extended) / Who Decides? // Happy Is The Bride / Pain (Is A Warning)
12" - EG Records - EGOX 52 - UK - 11 June 1990 - PS
Produced by Steve Hillage


Notes:
This single was originally slated for release on Big Life Records (BLR13) but this was cancelled. As far as I am aware, a Big Life edition does not exist. Then when reviewed in Hot Press, this single was listed as a Good Vibrations release by mistake. There is no Good Vibrations edition.



• Touch And Go / Sleep And Be Thankful
7" - EG Records - EGO 54 - UK - 1990 - PS
• Touch And Go (extended) / Hibiscus Town // Touch And Go (7" edit) / Sleep And Be Thankful
12" - EG Records - EGOX 54 - UK - 1990 - PS
CDS - EG Records - EGOCD 54 - UK - 1990 - PS


• Silence, Cunning & Exile
LP/CD - EG Records - EGLP76 - 1990 - inner sleeve
CD - EG/Virgin Records - VJCP-73 - Japan - 1990
Produced by Steve Hillage



side one:
Palace Of Dreams
Happy Is The Bride
Say The Word
Touch And Go
The Devil You Know

side two:
To See You Again
One Of Those Fools
... Of Loss And Wreck
On Any Other Day
All My Souvenirs
Just A Rumour
---
From: Leeds/Bradford

Active: circa 1985-86

Style: Alternative/Goth

Lineup:
Brendan Staunton - vocals, guitar
Des Staunton - bass
Martin Hutt - drums




Bio:

Both Staunton brothers were in this band before Dubh Chapter.



Discography

• Tea House Camp - To Kill: Stab In Back / Poor Tom
7" - Real Men Records - MEN 001 - UK - 1985


• v/a - Just Say Yeah
LP - Tanz Records - TANZ LP 2 - UK - 1986



track: Redneck Greenbacks (Hutt, Staunton, Staunton)
Help!
We need your help to correct and/or complete this entry. If you can provide more information about this band, have scans, photos or any other memorabilia we can use, or spare copies of any releases, then please get in touch.
Thanks to Patoba Ipririm & JJ for their help with this page
---

See Also: One Deaf Ear


---

A-Z Artist Index
Compilations
Record Labels
Media
Help Us!
Contact Us
Resources
Timeline
---