---


A-Z Artist Index
Compilations
Record Labels
Media
Help Us!
Contact Us
Resources
Timeline
---
From: ?

Active: ca 1980

Style:

Lineup:

Bio:

I have been unable to find out anything about this band. I'm not even sure they really existed. All I have is a mock up of an LP which might have been created for any number of reasons: a prank, an art project or maybe an attempt by a bedroom group to imagine what their LP might look like. Who knows? In any case, someone went to a lot of trouble to create a fake Cold Front LP. They did this by taking an existing LP (a Radio Stars album), turning the cover inside out, tearing the surface off the LP labels, and then creating their own cover artwork and labels, complete with song titles and credits. The album is titled 'Memories' and was created in 1980. This artefact, which I presume is a one-off, eventually found it's way into the secondhand market where it was sold to me as a 'real' LP by an online bookdealer. There is no address anywhere on the record, but the Graham Parker Irish Tour poster in one of the photos suggests it is Irish in origin. The songs are credited to John Odon or Dickins/Odon.

If you know anything about this artefact, please get in touch.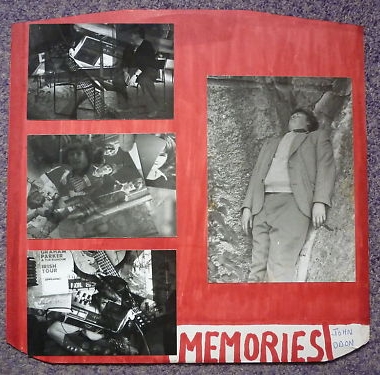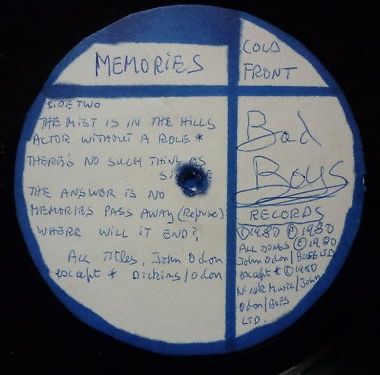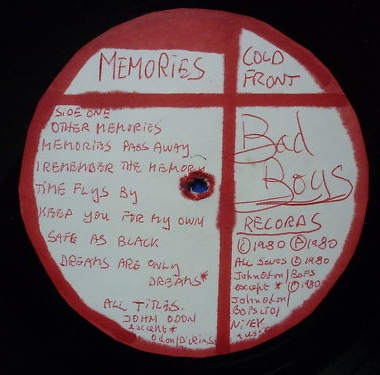 Help!
We need your help to correct and/or complete this entry. If you can provide more information about this band, have scans, photos or any other memorabilia we can use, or spare copies of any releases, then please get in touch.
---

See Also:


---

A-Z Artist Index
Compilations
Record Labels
Media
Help Us!
Contact Us
Resources
Timeline
---