---


A-Z Artist Index
Compilations
Record Labels
Media
Help Us!
Contact Us
Resources
Timeline
---
From: Limerick

Active:

Style:

Lineup:
Christy Barry - vocals & guitar
Tom Harte - guitar
Dermot Maloney - sax
Alan Murphy - bass
George Barry - drums
Bio:

Christy is Christy Barry who later fronted 16 Tons of Jive. Memorably described on ebay as "Soft Cell Meets Madness".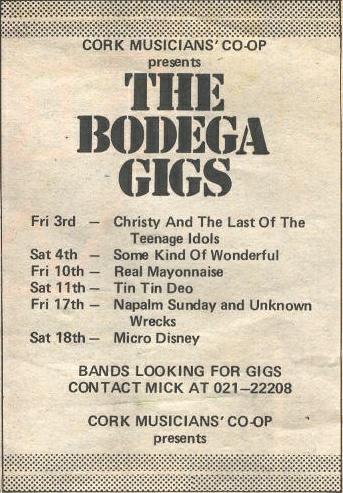 Bogeda gigs December 1982



Discography

• So Much In Love / In The Afternoons
7" - Lonely Records - LO 1 - 1982 - PS


Help!


We need your help to correct and/or complete this entry. If you can provide more information about this band, have scans, photos or any other memorabilia we can use, or spare copies of any releases, then please get in touch.



---

See Also: 16 Tons of Jive


---

A-Z Artist Index
Compilations
Record Labels
Media
Help Us!
Contact Us
Resources
Timeline
---