---


A-Z Artist Index
Compilations
Record Labels
Media
Help Us!
Contact Us
Resources
Timeline
---
From: IRL

Active: 1985-

Style: Heavy Metal

Lineup:
Ciaran James - vocals
Declan James - guitar
Bobby Tierney - guitar
Niall James - bass
Chris Andralinus - drums
Bio:

Heavy metal band of the James (real name Canning) brothers.

Similar in style to Ezy Meat, their album is now a minor collectable.

Crashed PR blurb:

This week sees the release of a new and exciting album from Irish Heavy Metal Band BLACKWYCH. Entitled 'OUT OF CONTROL' this is a very apt description of BLACKWYCH.
"BLACKWYCH could demolish a concrete wall at ten miles and that's without plugging in".
That was the verduict of the Heavy Metal bible KERRANG on Irelands leading contender for the hard rock crown, in their Irish Special on the Heavy Metal scene in Ireland.
Having recently made their vinyl debut on the GREEN METAL compilation release from CRASHED RECORDS and METAL MASTERS, BLACKWYCH were chosen from the bands featured on GREEN METAL to record an album for Crashed with simultaneous release in the U.K. on the Metal Masters label.
The material on the album lives up to the reputation credited to the band by both the Irish and British press.
Based in Kildare at present, BLACKWYCH are preparing for their forthcoming Irish tour to promote the new album with a U.K. tour also lined up and plans for a permanent move to Britain are on the cards to prepare for the recording of a second album before the end of the year.
Irish dates are scheduled for June/July so watch out for details.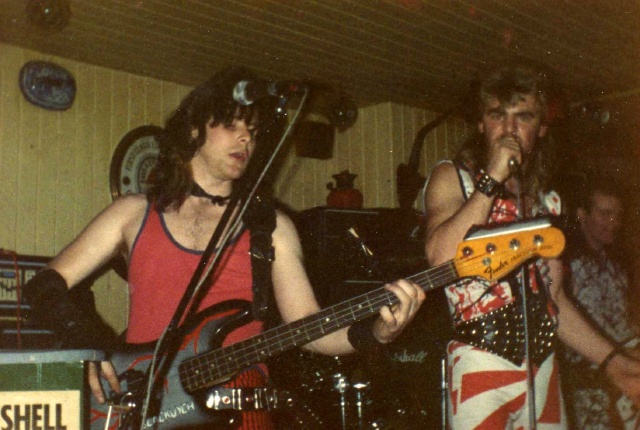 Live at Haydens, Naas in 1986, shortly after the album release
l-to-r: Niall, Ciaran & Declan James (thanks to John Tierney).





Discography

• various artists - Green Metal
LP - Crashed/Metal Masters Records - METALPS 107 - UK - 1985
See Compilations section for full track listing.




tracks: Metal Mania / Out of Control


• Out Of Control
LP - Crashed/Metal Masters Records - METALP111 - UK - 1986
CD - Slaney Records - SLANEY 023 - IRL - 18 June 2013



side one:
Out Of Control Rockin Lady
Man Hunt
Burning Down The Line
Death Dealer
side two:
Metal Mania
Mental Telepathy
Give Up
Rock 'N' Roll
The Hangman
Help!
We need your help to correct and/or complete this entry. If you can provide more information about this band, have scans, photos or any other memorabilia we can use, or spare copies of any releases, then please get in touch.
---

See Also:


---

A-Z Artist Index
Compilations
Record Labels
Media
Help Us!
Contact Us
Resources
Timeline
---