---


A-Z Artist Index
Compilations
Record Labels
Media
Help Us!
Contact Us
Resources
Timeline
---
From: Belfast

Active: 1980-

Style:

Lineup:
John McDonald - guitar & vocals
Liam Carville - keyboards & vocals
Joby Fox - bass
Seamus O'Neill - drums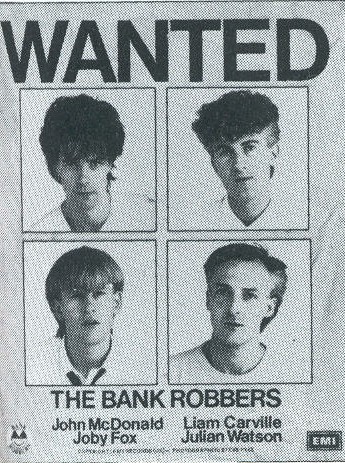 Bio:

Bankrobbers (one word, no preceding The) formed in Belfast in 1980. Drummer Seamus O'Neill worked part- time as a chef at the Europa Hotel where he approached manager Mark Walmesley who had experience booking bands and had made many contacts in that context to manage the band. He helped raise their profile locally and soon they were a regular attraction at The Pound. They also gained much publicity through a poster campaign in Belfast during the local Council's attempt to crack down on such activities.

In December 1980 they played their biggest gig to date when they opened (along with the Idle Threats) for the Undertones at the Ulster Hall. Other notable support slots included the UK Subs and The Kinks in 1981. They were invited to record a Downtown Radio Session but the band wasn't happy with the results.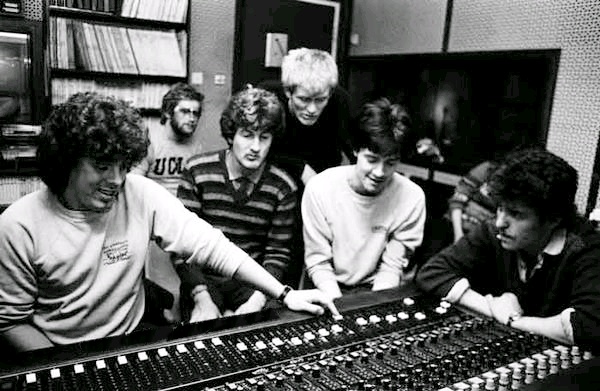 In the studio, l-to-r: Gerry McEvoy, unknown, Liam Carville , Joby Fox, John McDonald.
Photo: Sean Hennessy
By 1981 the band was ready to record and decided to release a single on their own label Rob The People Records. In April they entered the studio with Rory Gallagher's bassist Gerry McEvoy, who they'd met a couple of months earlier, in the producer's chair. The session went well but due to lack of funds the single would remain unreleased for over a year. In fact the state of their finances was so bad that the band was unable to pay the studio bill and engineer Rastus impounded their gear until they came up with the cash a few weeks later. A photo session for the sleeve done in Newtownards with the band members wearing US army surplus combat gear was possibly not the cleverest thing to do given the time and place! Someone reported suspicious activity and they were stopped at an RUC roadblack on their return to Belfast. This event was well covered in the press at the time.

Meanwhile manager Mark Walmesley had left his job in Belfast and eventually wound up on London where he arranged the bands first English tour for September with the help of Bob Johnston, manager of The Ruts and The Gas. The tour went very well and the band supported The Ruts on one occasion. On returning to Belfast they recorded a live session for the BBC.

With the single still not released and prospects not looking any brighter, Seamus O'Neill left the band in late 1981 or early 1982. He proved hard to replace but luckily he returned to the fold 4 months later. Mark Walmesley returned to Belfast determined to secure a release for the year old single.

Good Vibrations had re-launched with the eccentric Cruella De Ville's debut single in May 1982 and Terri Hooley was on the lookout for something more closely associated with the labels history to follow it up. Thus the Bankrobbers' debut single was finally released on Good Vibrations in the second half of 1982. Hooley chose to follow this up with Family Of Noise, and both bands played the Good Vibes Press Gang Party at The Pound on September 30th, but the label's fortunes took a downturn and the band was without a label again.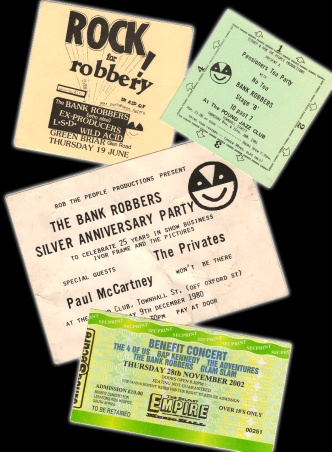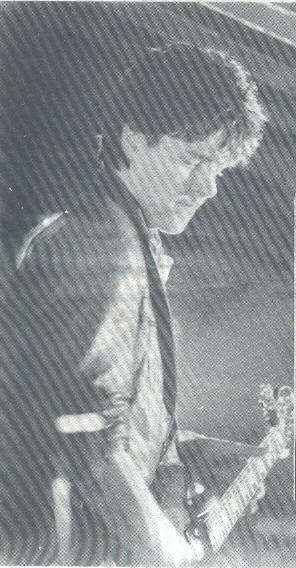 left: inventive tickets from June 1980 (Rock For Robbery!), January 1981 (Pensioners Tea Party at The Pound), December 1980 (Silver Anniversary Party) and a benefit concert from November 2002.
Right: John McDonald on The Tube in 1983.





Seamus O'Neill left again and was replaced by Julian Watson. They added a brass section in 1983, giving them a bigger sound, and appeared on Channel 4's "The Tube" Belfast Special. Good Vibrations managed to release a tie-in single for both Bankrobbers and 10 Past 7, who also appeared.

Bankrobbers finally signed a deal with EMI in 1983 which resulted in two singles. They split in 1984.

Joby Fox was later in the Energy Orchard.





Discography

• On My Mind / All Night
7" - Good Vibrations Records - GOT 18 - 1982 - PS
Recorded at Downtown Studios on 9-10 April 1981. Produced by Gerry McEvoy.


• Jenny (The Tube)
7" - Good Vibrations Records - TUBE1 - 1983 - PS
Double A side released to tie-in with the band's appearance on Channel 4's The Tube


side one:
Jenny (in concert at The Pound Belfast 26 Feb 1983)

side two:
The Interview (by Davy Simms)
Over The Edge
Notes:
This single was a tie-in with the Belfast edition of Channel 4's The Tube. "Jenny" was recorded "with a live feel" in March 1983. "Over The Edge" was recorded in May 1982 with Gerry McAvoy producing and was originally slated as the band's second single. The back cover credits Mervin Crawford (sax) and Alister Wallace (trumpet).

• Jenny
7" - EMI Records - KNAB1 - UK - 1983 - PS
12" - EMI Records - 12KNAB1 - UK - 1983 - PS


7-inch tracks:
Jenny
Please Come Back
12-inch tracks:
Jenny (12" mix)
Please Come Back
Oh No I've Got That Feeling


• Problem Page
7" - EMI Records - KNAB2 - 1984 - PS
12" - EMI Records - 12KNAB2 - 1984 - PS



7-inch tracks:
Problem Page
Problem Page (country version)
12-inch tracks:
Problem Page (extended version)
Problem Page (short version)
Problem Page (country version)


• various artists - Good Vibrations: The Punk Singles Collection
CD - Anagram Records - CDPUNK36 - UK - 1994
See Compilations section for full track listing.



track: On My Mind


• various artists - The Good Vibrations Story
CD - Dojo Records - CD 180 - UK - 1994
See Compilations section for full track listing.




track: On My Mind

Help!
We need your help to correct and/or complete this entry. If you can provide more information about this band, have scans, photos or any other memorabilia we can use, or spare copies of any releases, then please get in touch.
---

See Also:

External Links: Bankrobbers on youtube


---

A-Z Artist Index
Compilations
Record Labels
Media
Help Us!
Contact Us
Resources
Timeline
---