---


A-Z Artist Index
Compilations
Record Labels
Media
Help Us!
Contact Us
Resources
Timeline
---
From: Cork

Active: late 70s

Style:

Lineup:
Paul Tiernan
Christy O'Connell - guitar
John O'Sullivan - bass
Sammy Sullivan - drums


Asylum included in the Hard Rock listing for the Sir Henrys venue in Cork in August 1978.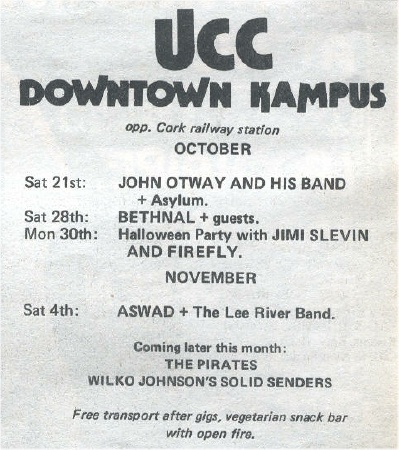 Supporting John Otway at the UCC Downtown Campus, October 1978.




Bio:

Late 70s band from Cork city, not to be confused with the Belfast anarcho punks. Guitarist Christy O'Connell was often compared to Rory Gallagher. The rhythm section may be related to each other, i.e. I may have the surnames slightly wrong. Sammy Sullivan later became U2 drum roadie. Paul Tiernan was later in Interference.





Help!


We need your help to correct and/or complete this entry. If you can provide more information about this band, have scans, photos or any other memorabilia we can use, or spare copies of any releases, then please get in touch.


Last update: 9 September 2010.


---

See Also:


---

A-Z Artist Index
Compilations
Record Labels
Media
Help Us!
Contact Us
Resources
Timeline
---