---


A-Z Artist Index
Compilations
Record Labels
Media
Help Us!
Contact Us
Resources
Timeline
---
From: Dublin

Active: 1984-88

Style: Hard rock/metal

Lineup:
Dave Byrne - vocals
John Dillon (ex Average Contents) - guitar
Mick Berney - guitar
Charles Hanna - bass
Pat Mooney AKA The Count - drums


l-to-r: Mick Berney, John Dillon, Charles Hanna, Dave Byrne, Pat Mooney.




Bio:

Assassin played hard rock/heavy metal with some pop influences. They appeared on TV a number of times performing "Stealin'".

The band supported Def Leppard, Manowar and WASP in the SFX and played the Marquee in London on two occasions. They also recorded a session for BBC Radio 1 DJ Tommy Vance's Friday Rock Show, which was aired twice.



Discography

• various artists - Green Metal
LP - Crashed/Metal Masters Records - METALPS 107 - UK - 1985
See Compilations section for full track listing.




tracks: Don't Run For Cover / UXB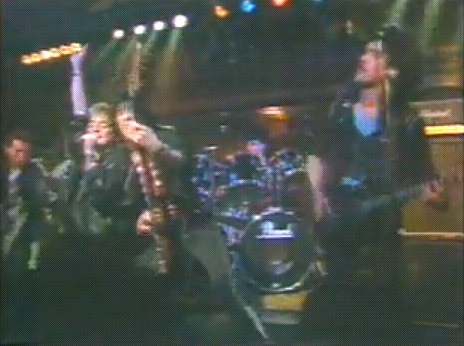 • Stealin'
7" - Solid Records - ROK 704 - IRL - 1987 - PS
Produced by Fast Eddie Clarke
Licensed from GWR Records


• Lost Without Your Love
7" - GWR Records - ??? - UK - 1987


Help!


We need your help to correct and/or complete this entry. If you can provide more information about this band, have scans, photos or any other memorabilia we can use, or spare copies of any releases, then please get in touch.



---

See Also: Average Contents


---

A-Z Artist Index
Compilations
Record Labels
Media
Help Us!
Contact Us
Resources
Timeline
---