---


A-Z Artist Index
Compilations
Record Labels
Media
Help Us
Contact Us
Resources
Timeline
---
Now In Session
LP - Downtown Radio - DTR SC1 - UK - 1982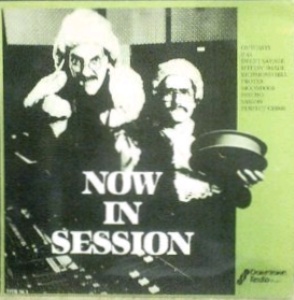 side one
The Outcasts - Programme Love
P45 - Teenage Love Song
Sweet Savage - Lady of the Night
Spittin' Image - Too Good To Talk To
Richmond Hill- Total Control

side two
Protex - I Wonder Why
The Moondogs - That's What Friend Are For
Psycho - No Return
Saigon - Crackin' Up
Perfect Crime - Poison Noise



The Downtown Radio Sessions were to Northern Ireland what the Fanning Sessions were to the south, i.e. a vital step for any band looking for wider exposure. Downtown was the local commercial radio station (and nothing to do with BBC as previously reported). Louis Edmondson and Davy Sim (pictured as judges on the Now In Session cover) were the presenters/producers of programmes featuring local music. The recordings on this LP are unique.




---

A-Z Artist Index
Compilations
Record Labels
Media
Help Us
Contact Us
Resources
Timeline
---