---


A-Z Artist Index
Compilations
Record Labels
Media
Help Us!
Contact Us
Resources
Timeline
---
Ballads Bold and Boozey
LP - Plough Records - PLX 502 - IRL - 1971?
Live recordings recorded at Dublin's Embankment.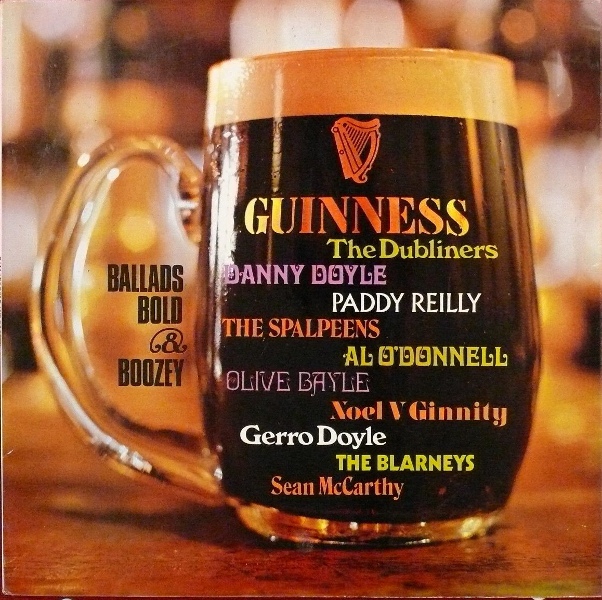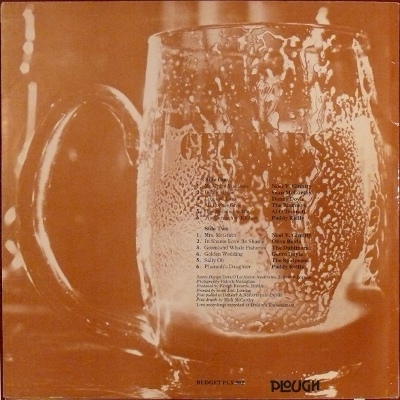 This appears to be a compilation of recordings originally released on Tribune Records, unsurprising given that Plough was essentially the successor of Tribune Records, and would have access to the same masters. However, without more details about the recordings and without comparing the tracks side by side, I cannot be certain of this claim.

Possible sources: A2, A5, A6 and B2 were probably taken from the Live At The Embankment LP [1967] ¹. A4, B4 and B5 probably from Ballads for Drinking and the Crack [1968] ². A1 and B1 were originally released on the same single in 1969 (Tribune TRS 136). It seems likely the remaining 3 tracks (A3, B3, B6) are also from Tribune releases.
side one:
Noel V.Ginnity - McAlpines Fusilieers
Sean McCarthy - Biddy Magee ¹
Danny Doyle - Crooked Lane
The Blarneys - All For Me Grog ²
Al O'Donnell - One Morning In May ¹
Paddy Reilly - The Curragh of Kildare ¹

side two:
Noel V.Ginnity - Mrs McGrath
Olive Bayle - In Shame Love In Shame ¹
The Dubliners - Greenland Whale Fisheries
Gerrio Doyle - Golden Wedding ¹
Spalpeens - Sally Oh ²
Paddy Reilly - Pharaoh's Daughter
---

A-Z Artist Index
Compilations
Record Labels
Media
Help Us!
Contact Us
Resources
Timeline
---